I made the joke a few days ago that the Yankees had $100 million tied up into players currently on the DL and it got me thinking about just how much the Yankees have lost, games wise and fiscally, to the disabled list this season. Here are your results... look with caution.
All games missed is as of 8/18 and salary as of 2012
David Aardsma - 60 Day DL - Tommy John Surgery - 500 K - 119 Games Missed
Cesar Cabral - 60 Day DL - Elbow Stress Fracture - 480 K - 119 Games Missed
Pedro Feliciano - 60 Day DL- Shoulder Surgery - 4 Mill - 119 Games Missed
Brad Meyers - 60 Day DL - Shoulder Surgery - 480 K - 119 Games Missed
Andy Pettitte - 60 Day DL - Fractured Ankle - 2.5 Mill - 43 Games Missed
Michael Pineda - 60 Day DL - Labrum Tear - 528 K - 119 Games Missed
Mariano Rivera - 60 Day DL - Torn ACL - 15 Mill - 93 Games Missed
CC Sabathia - 15 Day DL - Elbow Tightness - 23 Mill - 15 Games Missed
Alex Rodriguez - 15 Day DL - Broken Hand - 29 Mill - 21 Games Missed
Brett Gardner - 60 Day DL - Elbow Surgery - 2.8 Mill - 108 Games Missed
Austin Romine - 60 Day DL - Back Injury - 482 K - 119 Games Missed
I do not know why MLB.com still shows Austin Romine on the 60 Day DL but they know better then I would I guess...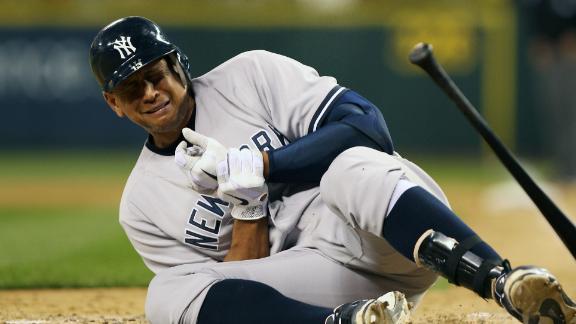 That is not mentioning all the time that guys not currently on the DL that have missed games like Nick Swisher(8), Mark Teixeira (7), Robinson Cano(2), Eric Chavez(7), Eduardo Nunez(60), Russell Martin (10), David Robertson (28), and Joba Chamberlain(113).
The Yankees currently have $78.71 million tied up in players on the disabled list. That is more payroll then TEN entire teams this season. These players, combined, has missed a staggering 994 games! If you include the guys that have missed time but not on the DL or not currently on the DL that staggering number goes up to 1229 games. That is nearing a 10 seasons worth of games in one season and will be by the time those 60 day DL guys miss the rest of the season.
All that and we are in the discussion for best record in the American League and have a very comfortable lead in the AL East. It must be all that buying of players and championships and less about the scouting and minor leagues. I did not write this for anyone to feel sorry for us but , in fact, I moreso wrote this because of all the people making excuses for teams like the Phillies and the Red Sox. If we can keep our head above water then so can you.
#EvilEmpire