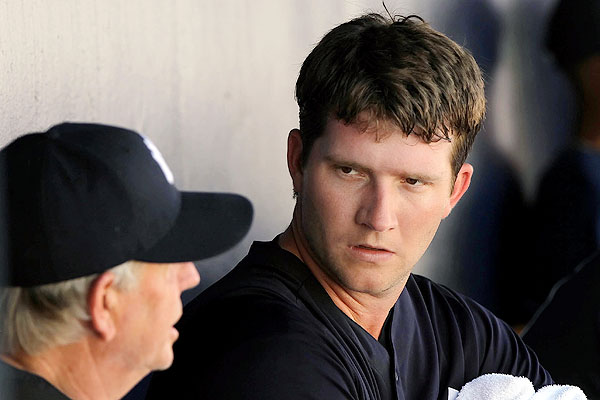 Adam Parrish Warren was born on August 25th, 1987 in Birmingham, Alabama where he went to New Bern High School in North Carolina. Adam would spend his college years as a Tarheel for the University of North Carolina following in his fathers footsteps. This big right handed starting pitcher has a nice frame for a pitcher standing in at 6'2" and weighing in at 220 lbs while throwing a fastball in the 92-94 mph range. Adam Warren is a big strong southern bred Alabama boy and is right on the cusp of the Major Leagues with the New York Yankees so you may need to get to know his name because it may be a common one in the years to come.
While at UNC Adam Warren went 12-0 as a sophomore with a 2.17 ERA in 15 appearances. Adam followed that up as a Junior with a 9-2 record with a 4.23 ERA in 18 starts for the Tarheels. Adam would win his first 19 starts as a Tarheel which is good for second longest streak to start a career in school history. To go with these great baseball stats Adam Warren also has a brain in his head while graduating UNC with a degree in business. He was also named to the All Academic ACC Honor Roll in consecutive years and named to ESPN's All-America Academic team in 2009. After his Junior season Adam was drafted by the Cleveland Indians in the 36th round of the 2008 MLB First Year Players Draft but declined to sign and instead went back to UNC for his Senior season where he graduated with a 3.36 GPA.
The Yankees would draft him in the 4th round of the 2009 draft and Adam has been in the Yankees system in all of the four seasons since then. Adam would make two stops in the Yankees farm in the 2010 season while stopping in Tampa for the Tampa Yankees and Trenton for the Trenton Thunder. Trenton is where Adam set a franchise record when he struck out 15 batters in a single game while earning the Eastern League Pitcher of the Week with the performance. In 2011 Adam made it all the way to AAA with the Scranton team and was named to the Triple-A All Star team. Adam would make his Major League debut with the Yankees last season while filling in for injured CC Sabathia in June giving up six runs in 2.1 IP getting himself a no decision in a 14-7 loss to the Chicago White Sox. Adam was recalled as a September call up but did not see any more action in the 2012 season.
Adam is considered to be our best and closest starter that we currently have in the minor leagues and is on the cusp of making it to the majors. Adam will be getting the first call if the Yankees need a starter for a double header or in an emergency situation and figures to be part of the 2014 plan when we, and yes I am assuming, no longer have Hiroki Kuroda or Andy Pettitte. I am personally excited to see Adam Warren get his true shot in the majors as I have been following him since his draft day and I think his two years and 300 IP+ in Scranton are more then enough I am ready to see what Adam can do in pinstripes.
ETA 2013