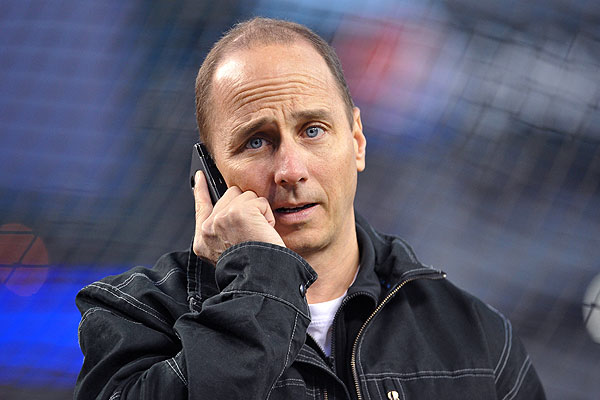 The calendar has turned to July, which means summer is in full force and we are under a month away to the MLB trade deadline. The Yankees (44-39) currently sit six games behind Boston in the AL East and are three games behind Oakland and Baltimore in the wild card.
The Yankees need to be looking for offensive help immediately before they fall out of the race. 3rd base, shortstop, catcher, and 1st base are the biggest Yankees needs. Even if the Yankees fell out of the race they do not have many pieces to sell. Nobody will want the contracts of Alex Rodriguez, Mark Teixeira and CC Sabathia. Hiroki Kuroda has a no-trade clause and Joba Chamberlain, Phil Hughes and Curtis Granderson have either under performed or been injured this year. Here are the players I think the Yankees should target in trades:
Jonathan Lucroy C Brewers:
The Brewers are big time sellers and the Yankees should certainly place a call to them about Lucroy. Lucroy, 27, is still in his prime and has a great contract that would have him under team control through 2016, so he is more than a rental. He has a slash line of .267/.313/.432/.745 this season, which is down from last year (.320/.368/.513/.881), but still very solid for a catcher. Lucroy has shown much more power this year, as he has hit 12 home runs already this year and he hit 12 all of last season. He is 8th among MLB catchers in wOBA (.321) and wRC+ (103). Lucroy would represent a huge upgrade for the Yankees.
Kendrys Morales 1B Mariners:
Morales is having a solid season for the Mariners and he would be a good player for the Yankees to get on a rental. He would be a big upgrade over Lyle Overbay, who has been terrible recently. Morales' slash line this year is .277/.334.433/.768. He has nine home runs, but Safeco Field probably has kept that total lower than it should be. Morales is a switch hitter, which is always great and the only current switch hitter on the Yankees is Zoilo Almonte. He hits lefties and righties effectively, but he has crushed lefties (147 wRC+ and .378 wOBA), and the Yankees really struggle against lefties. Morales would be a perfect fit at first base for the Yankees.
Michael Young 3B Phillies:
Alex Rodriguez started his rehab yesterday, but it is still hard to count on him coming off of major hip surgery. Even when he does come back he will have to DH a ton and David Adams has been dreadful. Young would fit perfectly in the number two hole in the Yankees lineup behind Brett Gardner. Young's fielding is not good, but the Yankees really need the offense right now. His slash line is .287/.344/.409/.753 with 108 wRC+ and a .328 wOBA. Young has little power and is up there in age, but he is a considerable upgrade over what the Yankees have.
Mike Morse 1B/OF Mariners
Morse was somebody I wanted the Yankees to trade for over the winter, but he went to Seattle. Morse is currently on the DL with a quad injury, so he will have to prove to be healthy before the Yankees trade for him. If healthy, his versatility and right handed power would be a good fit for the Yankees. Morse's slash for the season is .251/.313/.454/.767 with a .332 wOBA and 115 wRC+. He is an intimating presence at 6-5 and 245 pounds that would bring some much needed pop to the lineup. With his injury and his impending free agency he will not cost a ton.
Chase Utley 2B Phillies
Obviously, Utley would not be playing second base on the Yankees. However, he has 24 career starts at first base in his career, so he is familiar with that position. Utley just returned from the DL last week and injuries are always a concern with him. Yet, when he is on the field you know he is going to produce. Utley has hit to the tune of a .284/.348/.517/.866 slash line. His 2.5 WAR, 138 wRC+ and .371 wOBA are also very solid. Utley is a lefty, but lefties do not give him a lot of trouble, as he has a .816 OPS against lefties this season. Utley would instantly become the second best hitter on the Yankees.
Nate Schierholtz OF Cubs
The Yankees tried to acquire Schierholtz this winter, but he went to the Cubs and the Yankees really could have used him. Schierholtz is having an outstanding season and his swing would fit great at Yankee Stadium. Outfield is not the biggest need on the team, but the Yankees need bats any way they can get them. Schierholtz has showed great pop this year with 11 home runs and a .536 slugging percentage. Schierholtz is another rental so he would have no effect on next year's payroll.