Today we bring to you a injury update and an interview with 2012 first round draft pick Ty Hensley as the latest part of Prospects Month here on The Greedy Pinstripes. Ty had hip surgery last season and missed the entire season in 2013 and looks to be back better than ever in 2014. I won't make you wait any longer so here is the interview.
The Greedy Pinstripes: We won't make the fans wait any longer than they have to, how is the rehab going? Everything on schedule for 2014?
Ty Hensley: Yes I'm feeling better and better every day and I am more than ready and anxious for this season to start. I feel a lot better than I did before i had my surgeries.
TGP: Biggest baseball inspiration growing up as a kid?
TH: My father. Given his baseball background and knowledge, he was the one who got me hooked. Him, and my favorite players Roger Clemens and Chipper Jones.
TGP: I don't really need to ask because I follow your stuff on Twitter a lot but how important is family to you?
TH: Family is the most important thing in my life behind my faith. I know that no matter what happens they have my back and always want what is best for me. They taught me everything I know and have molded me into the man I am today. I have the best family out there,
I couldn't ask for better.
TGP: I respect the hell out of you for being religious and being so open about it. How do you think your faith has helped you in your life and in your career?
TH:
Appreciate that. It's gotten me through everything I have ever done. Tough or easy. I know I always have the man upstairs to talk to and he always listens. He has surrounded me with incredible people and has always given me a reason to believe. My relationship with God has grown tremendously after this last year. This last year was a lot harder than a lot of people know. They will someday, but I couldn't have possibly made it through without God.
TGP: Did you play any other sports or positions in baseball growing up?
TH:
Yes, I played all over the field in baseball and actually could have pursued that professionally if I chose to. I also played quarterback in football and could have gone to a few D1 schools to play. I also played basketball, but needless to say I was not very good!
TGP: What do you do during the offseason to keep yourself occupied?
TH:
Catch up with old friends, lift, run, hang with my family, hunt, and recently I have been receiving training in a form of martial arts known as krav maga. After the season I will pick it up again because it is such a good workout and is good knowledge to have in defensive situations.
TGP: Favorite restaurant to eat at?
TH:
A local sports bar in Lawrence, Kansas called "Henry T's". Best wings on the planet!
TGP: I see your a walking dead fan. Have you read the books or the comics? Oh and by the way please back off Maggie, I saw her first, thanks :)
TH:
Haha, nope I just watch the show, I am obsessed.
TGP: I think this answer may be obvious but in my time around social media I have noticed there are two kinds of fans when it comes to prospects. You have the "prospect humpers" (myself being a self professed prospect humper) and a name yet to be determined (due to my lack of creativity) describing those who want to sell all the prospects off for the 37 year old "sure thing." Which category do you think yourself as a fan falls into?
TH:
Well, since i am currently a prospect i would definitely be a "humper" (odd as that is to say).
TGP: What current Major League player do you think you compare to the most?
TH:
I don't really like comparisons now because this past year i have realized everyone is different and that I am a completely different pitcher as far as my body goes than a year ago… In a good way! so I'm still trying to figure this out!
TGP: I know you probably don't think of things like this but how long before you think we could see you in the Major Leagues? I have your ETA down as late 2016, is that accurate?
TH:
I have no idea, but what I do know is that wherever I am I will work to stay healthy, perform to the best of my abilities, and stay positive. I will be ready when they call for me there. Thats all I can hope to do and the rest will take care of itself.
TGP: If you could be the Yankees GM for a day what would you do? Don't have to really be realistic here.
TH:
Haha tough to answer this question.. Guess thats why they let Mr. Cashman make all the calls and he does a very good job.
TGP: We'll finish with this one, where do you see yourself in life and your career in five years?
TH:
Living out my dream of being the best Major League Baseball player that my talents will possibly let me be. That's the only thing that I know I want at the moment and that is all I'm focused on!
TGP: I just wanted you to know that we really appreciate you Ty. We as fans and blog owners see far too many beat writers and players and such who do not understand what social media is for. You are always open to talk on Twitter and have been gracious enough to give us two interviews now and we just wanted you to know that we, and our readers, certainly appreciate it. Thank you.
TH:
No problem at all, my pleasure! You do a great job!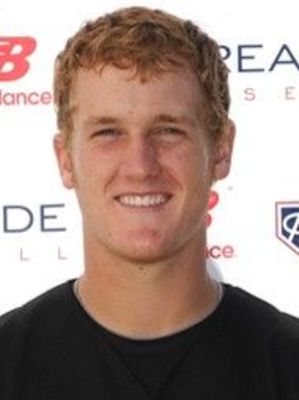 A big thank you goes out to Ty Hensley for doing this interview for us and a bigger thank you goes out to Mike and Marci Hensley for raising such a great man! We appreciate you taking the time out of your rehab and offseason schedule to do this for us and our readers, thank you. You can follow Ty on Twitter by following @TyHensley17.