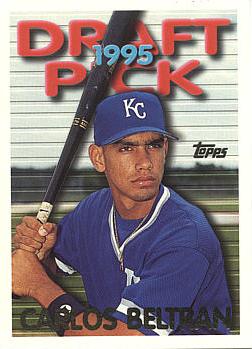 Carlos Ivan Beltran was born on April 24, 1977. Beltran excelled in many sports as a child including volleyball and baseball among others and turned his attention to baseball full time when he was 17 years old. Beltran spent his High School years at Fernando Callejo High School and graduated from the school in 1995. The Kansas City Royals selected Beltran in the second round of that 1995 Major League Baseball First Year Player's Draft and signed him rather quickly out of High School. Beltran would sprint through the Royals farm system and would finally make his Major League debut on September 14, 1998 and would become a permanent fixture in 1999, and the rest as they say is history.
Beltran went into the 1999 season as the Royals leadoff hitter and starting center fielder but was quickly moved to the third spot in the order after he showed enormous power for his age. Beltran batted .293 with 22 home runs, 108 RBI's, and 27 stolen bases in his rookie campaign bagging him Rookie of the Year honors. Beltran also made the final out at the old Tiger Stadium in Detroit when he struck out against Detroit reliever Todd Jones as the Royals fell to the Tigers 8-2. Beltran has a bit of a sophomore slump in 2000 as injuries kept him out of all but 98 games and saw his batting average slump to a dismal .247, thus making him lose his starting job to up and comer Johnny Damon. Luckily for Carlos Damon was traded to Oakland following the 2000 season and Beltran was given his job back for the 2001 season and did not disappoint as he batted .306 with 24 home runs and 101 RBI's in 2001. Beltran's 2002 and 2003 campaigns were impressive as well with Beltran finishing 2002 with a .273 average with 29 home runs and 105 RBI's and finished the 2003 campaign with a .307 average with 26 home runs and 100 RBI's on the dot. Playing for a small market team with a dismal record mixed in with the fact that Carlos had Scott Boras as an agent made Carlos the talk of a ton of trade rumors during the 2003 and 2004 seasons before the Houston Astros, in a three team trade, traded for Beltran which also brought reliever Octavio Dotel to Houston with Beltran from the Oakland Athletics. Beltran was selected as the American League starting outfielder in the 2004 All Star Game and was named the National League starting center fielder after Ken Griffey, Jr. went down with an injury making Beltran the first player to be selected for one All Star team only to play for the other in the same season.
The 2004 postseason with the Astros is where Beltran put his name on the playoff map tying Barry Bonds single postseason record with eight home runs, hitting one in each of the four games of the National League Championship Series against the St. Louis Cardinals. If you count Game 5 of the NLDS where Beltran hit two home runs to bury the Atlanta Braves Beltran had hit a home run in five consecutive post season games, something that has never been done in the history of the game. Beltran did not stay an Astros player for long as he was a free agent after the 2004 season and tested the free agent market. The New York Yankees were believed to be the favorite to land Beltran, especially after he offered New York a $19 million discount to play for them, but when the Yankees declined the crosstown New York Mets swept him up with a seven year deal worth $119 million. This contract was the biggest in franchise sports history at the time and became only the 10th contract in baseball history to go over the $100 million mark.
Things started great for Beltran in New York, the fans loved him, the media loved him, opposing pitchers hated to face him, but on August, 11 2005 in a game against the San Diego Padres Beltran was seriously injured after colliding head to head with teammate Mike Cameron on a shallow hit by in right center field. Cameron missed the rest of the season with a concussion, temporary loss of vision, and two broken cheekbones with Beltran suffered from vertigo for a long while. This was on top of the quadriceps injury that hampered Beltran most of the season and limited him to career lows in batting average, .266, home runs, 16, RBI's, 78, runs scored, 83, and stolen bases, 17. All this while still making his second All Star team, go figure. Beltran followed 2005 by playing for Team Puerto Rico in the 2006 World Baseball Classic and his success there followed him into the 2006 season in New York. Beltran surpassed his previous seasons home run totals before the half way point of 2006 and earned himself a spot in his third consecutive All Star Game. Beltran become the first Mets player to ever hit three grand slams that season when he hit one in consecutive games on July 16th and July 18th and hit his third at the end of July. Beltran finished with 41 home runs that season tying Todd Hundley's Mets team record for a single season and also scored 127 runs that season, a Mets single season franchise record.
The 2007 season is when things began to go wrong for Beltran in New York, although his overall numbers were decent in 2007 they were helped drastically by a hot August and September run. The Mets had a major collapse in 2007 and Beltran was considered to be one of the prime culprits for the run down the stretch. Beltran did have some upside though as he hit the final regular season home run in the history of Shea Stadium by a Met, the final home run going to the Marlins Dan Uggla. Beltran surpassed the 1,000 RBI mark for his career in 2009 but struggled in 2010 after a knee surgery had him out what was supposed to be 8-12 weeks. Beltran made his season debut in 2010 on July 15th after a long drawn out battle on whether or not the Mets knew about and consented to Beltran's surgery being done by Beltran's personal physician Dr. Richard Steadman. The 2011 was the end of Beltran's career as a New York Met as he was traded to the San Francisco Giants on July 28, 2011 for Zack Wheeler and others. Beltran's Giants career was less than stellar, as his contract expired at the end of the 2011 season, but he did hit his 300th home run of his career in a Giants uniform off of Padres pitcher Mat Latos.
On December 22, 2011 Beltran agreed to a two year deal with the St. Louis Cardinals worth $26 million and a full no trade clause. Beltran's time in St. Louis was both memorable and historic as he became the first to ever get a hit in a regular season game at the New Marlins Park. Also on June 1 of that year, in his first game in New York after leaving the Mets, he was given a standing ovation by the crowd. Beltran was also at the plate when his "foul" ball was ruled foul after hitting the foul line which preserved Johan Santana's no hitter, the first in New York Mets history. Beltran also became the first switch hitter in MLB history to reach the 300 home runs and 300 stolen base plateau in June of that season. Beltran also got his 2,000th hit in June of that season and his 400th double of his career as well. Beltran made his first World Series appearance of his career in 2013 but ultimately lost to the Boston Red Sox and entered free agency this winter.
Beltran has had his fair share of achievements in his Major League career including being the American League Rookie of the Year in 1999, is an eight time All Star, has won three Gold Glove Awards for his work in the outfield, has won two Silver Slugger Awards, is a member of the 30 home run and 30 steals club, has won an American League Player of the Month award and is a nine time Major League Baseball Player of the Week Award winner, he has tied the single postseason record for home runs with the Astros with 8 home runs, won the Fielding Bible Award in center field with the Mets in 2006 and 2008, holds the Mets single season runs scored record with 127 runs and home run record holder with 41 in one season, has over 1,000 runs scored and over 1,000 RBI's, is the first switch hitter and the 8th player overall to attain 300 home runs and 300 stolen bases in his career, has over 2,000 hits, has over 400 doubles, is a part of the Mets All Time 50th Anniversary team as a starting center fielder, and most recently won the Roberto Clemente Award for the 2013 season. Impressive credentials if I don't say so myself!
Carlos has played for the Kansas City Royals, Houston Astros, New York Mets, San Francisco Giants, St. Louis Cardinals, and now is a member of the New York Yankees for at least the next three seasons. With Beltran finally in the fold for the Yankees maybe he can ultimately get the one thing that has eluded him, a World Series ring. Beltran is one of the best all-time statistical hitters in the history of the postseason and has even earned nicknames like "the new Mr. October", "Mr. October Jr." , "Senor Octubre" and "the real Mr. October from the news media. Carlos leads all time in postseason slugging percentage, runs scores in a single season and at bats per home run ratio. Beltran is also MLB's all-time leader in OPS during the postseason when he passed the great Babe Ruth and Lou Gehrig. Beltran has broken the 1.000 OPS mark in four different playoff series, has a 100% stolen base percentage in the postseason, and is bringing all this to the Bronx next season.