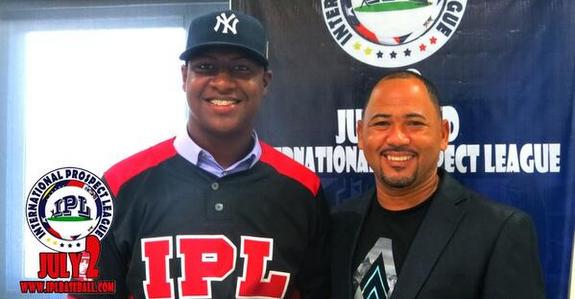 Prospects Month is in full swing and we're already up to our 18th best prospect in the farm system, Juan DeLeon. DeLeon marks the first prospect from the big International spending spree to be showcased on the list this season which is pretty cool.
Here is the write up from Kyle McDaniel on DeLeon:
Juan DeLeon, RF
Video
: DeLeon was my favorite prospect of the Yankees' July 2nd haul when he signed, even though he only got the third highest bonus ($2 million), behind Dermis Garcia and Nelson Gomez. He has very quick hands, with easy plus bat speed and arm strength to go with above average foot speed and power potential. As with some of his young peers facing players five years older than them, DeLeon would get out of control at the plate at times in instructs, but he made hard contact when he stayed within himself and didn't hesitate to show off his arm in right field. It's too early to know for sure, but there's a good chance he'll join the best players from the July 2nd class in the GCL in 2015. This may sound crazy, but DeLeon's Dominican trainer, who goes by "Banana," is known for developing advanced hitters and DeLeon is continuing that trend.
1.
2.
3.
4.
5.
6.
7.
8.
9.
10.
11.
12.
13.
14.
15.
16.
17.
18. Juan DeLeon
19. Dante Bichette Jr.
20. Domingo German
21. Slade Heathcott
22. Nick Rumbelow
23. Jose Ramirez
24. Ramon Flores
25. Gosuke Katoh
26. Chasen Shreve
27. Taylor Dugas
28. Johnny Barbato