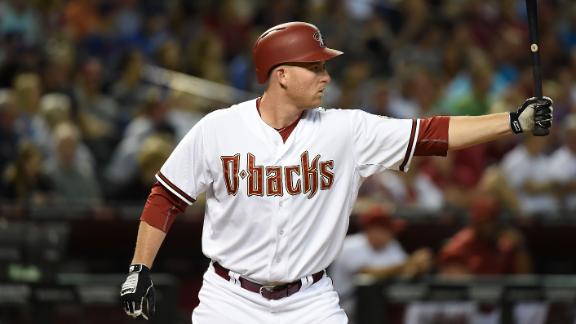 I don't know if it's just me or not but after every big trade that goes down I have to wonder if the New York Yankees could have pulled off a similar trade to improve the team. That was no different when I was checking MLB Trade Rumors and saw that the Seattle Mariners had acquired Mark Trumbo and Vidal Nuno from the Arizona Diamondbacks for catcher Wellington Castillo, a relief pitcher and two prospects I will not pretend to know anything about. Trumbo is a power hitting right handed bat that can play first base and the outfield and would make for an instant, and substantial, upgrade over Garrett Jones on the roster but could the Yankees have pulled it off?
The first thing that would work out in the Yankees favor is that Brian Cashman seemingly has a good working relationship with the GM of the Arizona Diamondbacks Dave Stewart. Cashman only seems to trade with certain teams, the Atlanta Braves, the Seattle Mariners, the D Backs, etc. so with that hurdle out of the way it would have come down to the package the Yankees could offer. You have to wonder if Seattle was genuinely interested in Nuno or if he was a throw in to offset some salary but for the sake of this post I'll assume Seattle merely wanted him and the Yankees have little use for him leaving him out of any potential deal.
Arizona needed a catcher to replace the last catcher we traded them, Peter O'Brien, as he continues to struggle to throw the ball back to the pitcher and has been moved to the outfield and a catcher to back up newly called up Jarrod Saltalamacchia. Whether Austin Romine, Eddy Rodriguez or Gary Sanchez would have been enough or comparable to Castillo remains to be seen but even with Sanchez in the package you have to make the deal with Trumbo under contract for the 2015 and 2016 seasons. The Yankees have a plethora of young RHP arms that could have equaled or exceeded the relief pitcher Arizona acquired while New York at least matched the two lesser known prospects.
All in all in looks like New York could have matched Seattle in any package and made the deal for Trumbo. The costs probably would not have justified the means for what would become a part-time player in New York making the deal likely in the end but it still feels good to know that Cashman has the pieces in place to make a deal if he so wishes and if it makes the team better in the long run.