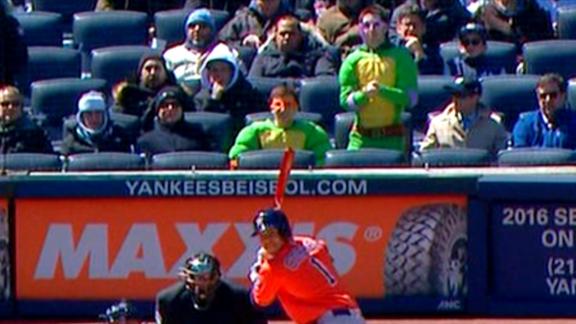 Apparently John Oliver, HBO's "Last Week Tonight with John Oliver" host and comedian, was not a fan of the comments made by the New York Yankees, Lonn Trost specifically, in their whole debacle and debate with StubHub and print-at-home tickets. None of us were really happy with those comments or the decision truth be told, and when I say "us" I mean the fans, but none of us have taken it as far as Mr. Oliver has.
Oliver has seats directly behind home plate at Yankee Stadium and has looked to shake things up a bit in the Bronx during this three game home stand to open the season. After the Yankees basically told their fans in not so many words that they don't want those who can't afford the premium seats, the poor AKA the working man and woman, sitting with those that can afford the seats. So what did Oliver do? He pledged to sell his pair of seats to fans for a quarter, 25 cents, if they agreed to dress up in costumes during the game.
On Opening Day the Bronx faithful were blessed with the protection of a pair of Teenage Mutant Ninja Turtles and for the second game there were two young women dressed in unicorn costumes with two others in shark costumes a couple rows behind them. Oliver has set out to prove a point to the Yankees and the point has been made, it's time to move on.
Now I know on his next show he will talk about it again and recap what he's done, that's the whole premise behind his show and it's very much his right to do so, but after that he needs to just let it go. What does he think he is proving? Is he going to change the hearts and minds of the Yankees organization? Nope. You know why? He paid full price for those tickets, the Yankees got their money and the Yankees are in it for one thing. Money. In fact New York is probably laughing all the way to the bank because of these costumes, free publicity. The costumes are all over MLB Network and ESPN as well as FOX Sports and such.
Oliver, nice work sticking up for the fans and the ones seemingly getting screwed by this print-at-home tickets decision. Just don't beat it into the ground like a dead horse, that's when it gets counterproductive.