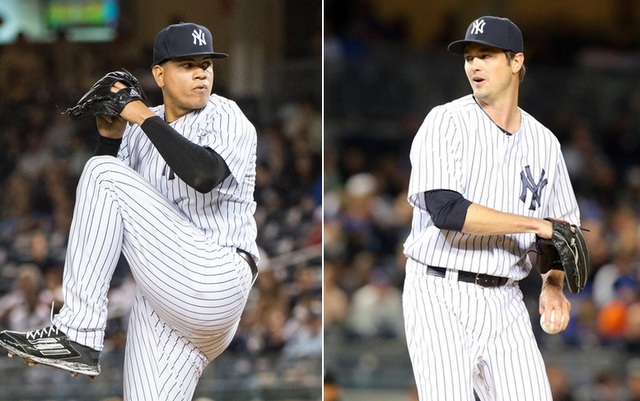 This season has not exactly started out the way many of us both inside and outside of the organization had really hoped for. With every season in the Bronx many head into the season with the expectations of at the very minimum competing in the American League East Division if not for a World Series championship. Like many seasons in New York the World Series may not be headed to the Bronx but this season may be especially grueling and long after a sluggish start by the team. If the team continues at this pace they will be out of contention by June or July leaving many to wonder if the team would, or could, sell off pieces at the trade deadline.
To answer the easy questions first, yes the Yankees have more than a few tradeable pieces if they decide to mail it in, take their ball and go home for the summer. During the offseason the Yankees attempted to, and could have in many cases, trade Brett Gardner, Ivan Nova and Andrew Miller but that's only the beginning of what they would have to offer. I know expiring contracts is not a huge thing in Major League Baseball like it is in a salary cap driven sport like the NBA or NFL but the rental contract of Aroldis Chapman, Mark Teixeira and Carlos Beltran could also possible be moved if things don't go so well this season for New York.
Now of course Teixeira and Beltran have no-trade clauses but Chapman, Gardner and Miller do not. I truly believe New York would want to hold onto younger guys like Didi Gregorius, Starlin Castro and Aaron Hicks along with a few of their young pitchers, namely Michael Pineda, Nathan Eovaldi and Luis Severino. If you're going to hold onto young pitching though it may be imperative to hold onto a veteran catcher known for calling good games because good games equal confidence so Brian McCann may be safe in the Bronx until his current contract runs out.
One must remember that the Yankees are no longer at the beginning of this "rebuild on the fly while still trying to compete" thing. The Yankees have youth at second base, shortstop, all over the pitching staff and littered throughout their minor league system. The team is ahead of the curve and they have their eyes on the 2017 and 2018 seasons anyway, would a bit of a fire sale really be the worst thing to happen to New York in 2016? I really can't bring myself to say no, although that doesn't mean I won't be rooting my ass off all 162 games to win and reach the playoffs either.