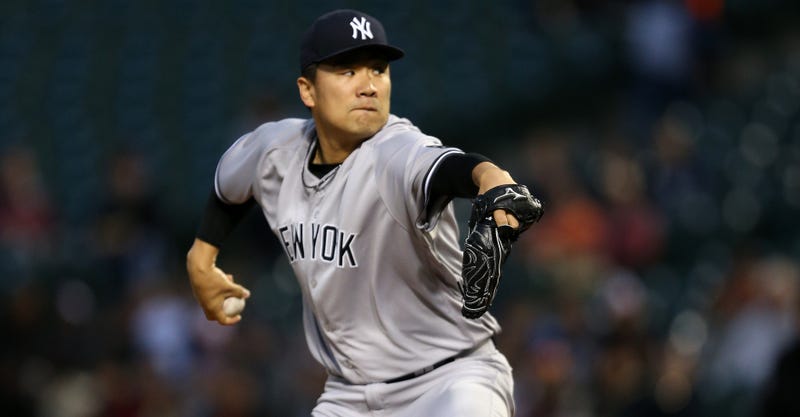 The New York Yankees and the Kansas City Royals are back at it again tonight in the Bronx in the second of their three-game set in the Bronx. Unfortunately as you read earlier this morning I will be missing this game but I will be there in spirit rooting on the home team. In the contest the Yankees will be sending Masahiro Tanaka to the mound looking for another gem, and maybe some offensive support to help, while the Royals will counter with Kris Medlen.
Tanaka pitched an absolute gem in his last start against the Baltimore Orioles but while he delivered just what the doctor ordered the offense fell asleep in a no-decision. Tanaka ended up throwing eight shutout innings in the start but the Yankees did not break through until the bottom of the 10th when a Brett Gardner solo home run sent the Yankees fans home happy with a 1-0 walk off victory.
Medlen had the exact opposite kind of start as Tanaka did last time out against the Washington Nationals. Medlen lasted just two innings in the contest while allowing nine runs, six of them earned, on six hits. Please sir, may we have some more?
The game will be played at 7:05 pm ET inside of Yankee Stadium and can be seen on the YES Network, MLB Network and of course MLB TV. Medlen is one of those pitchers I've watched a lot since moving to Atlanta and while with the Braves I suffered through a pair of Tommy John surgeries with the right-hander. I'm glad to see him back on the mound and back with a contending team because I always kind of liked him when I watched him pitch either live or on television. I'm a Yankees fan through and through but when you live afar and you're a baseball junkie like me it's hard not to latch on and at least follow the "home" team. Medlen pitching or not though you need to best believe I'll still be shouting GO YANKEES each and every time.
Go Yankees!