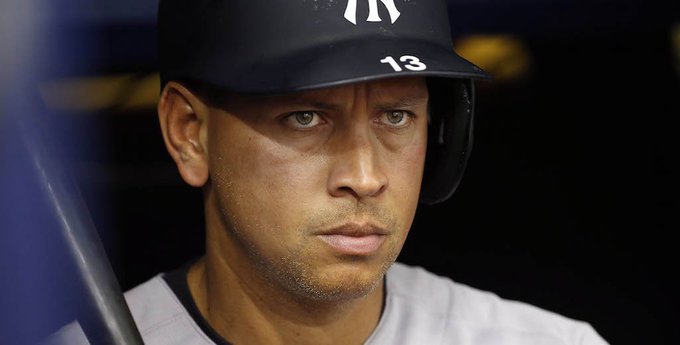 The New York Yankees have done something over the past week or so that I have said on Twitter and on this blog many times that they would never do, the team has benched Alex Rodriguez due to production. As a fan of Alex's and as a fan that has stood up for his forgiveness and playing times many times here, maybe more than anyone and certainly before it was "cool" back in 2015, it's bittersweet for me because I know he's hurting the team as an automatic out and as a black hole in the middle of the lineup but at the same time it still hurts to see the players you have watched all your life grow old and let father time catch up to them. Rodriguez is saying all the right things though including a statement that resonated with me. Alex said that "you haven't heard the last of me" so I beg the question, have we heard the last of Alex Rodriguez?
Honestly I don't think so. So many times we've heard the stories of Alex being done and that Alex needs to retire only to take a few games off and come back hitting like a 31-year old again instead of a 41-year old. That may not be the case this time around but I don't think we've heard the last of him regardless. He's a proud man and a loyal student to the game and he will not simply ride off into the sunset because of a bad stretch. Michael Kay told a story on the YES Network the other day that really cemented this thought process home for me. He said he was driving home from the stadium and he was listening to Suzyn Waldman on the radio and in the background a "crack" could be heard every 10 seconds or so. Suzyn commented that the sound they were all hearing was Alex Rodriguez taking batting practice in the cage. Forty five minutes after the game had come to an end Alex was still in the cage working, tweaking and adjusting with hopes of getting back into the lineup and making a contribution.
This really stuck with me because I am currently reading a book called "Boycott the Yankees" by Mike DeLucia (have no fear, when I am finished I fully plan on doing a review of the book) and in the book DeLucia mentions what I have mentioned many times on this blog. A lot of players don't have the incentives to do well or to even give a crap in the world of guaranteed contracts and bloated MLB salaries. What does Alex have to gain? He's five home runs away from the 700 home run club and despite anything he says he wants that in the worst way. In fact he wants Barry Bonds all-time home run record but I don't think taking batting practice before, during and after a game is driven by his own personal goals and admirations. It's not because he's working towards a salary either. It's because he loves the game, he loves New York and he wants to help his teammates.
Alex could ride off into the sunset if he wanted to with his millions and live happily ever after. But he won't. He's too proud to go out like that and he wants to help this team win so no, we haven't heard the last of Alex Rodriguez. Not by a long shot. Given the next opportunity he will prove to you all once again what I already know and understand. He'll be back, mark my words. 700 home run club here we come.