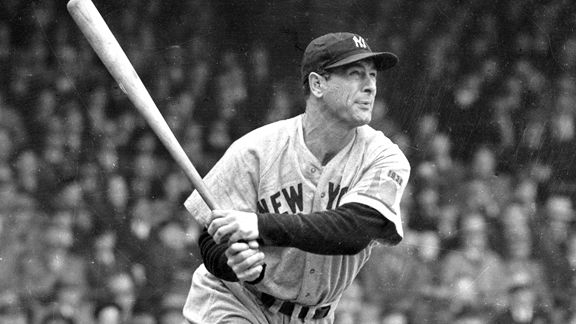 On this day in 1939 Lou Gehrig plays his final game as a member of the New York Yankees while in an exhibition game. A record crowd of 23,864 fans filed into Ruppert Stadium to see the Kansas City Blues play the Yankees. Gehrig played three innings and batted eight while grounding out weakly to second base in his only at bat.
Alex Rodriguez did something pretty significant as well and it pertains to Gehrig as well but more on that later....
Also on this day in 1928 Lou Gehrig has a week of it by collecting fourteen total bases when he collected two triples and two home runs in the same game. The Yankees would beat the Chicago White Sox 15-7 in Comiskey Park behind Gehrig's outburst.
Finally the New York Highlanders, later to be named the New York Yankees, were never known for being a good team, especially on the defensive side of the ball. On this day in 1907 the Highlanders committed a total of 11 errors in one game, and that's not a typo. Eight different Highlanders committed an error in a 16-4 loss to the Detroit Tigers. The Highlanders shortstop Kid Elberfeld committed four errors by himself while playing in front of the home team at American League Park.
Also on this day in 1990 in a bit of non-Yankees related news Cal Ripken Jr. continued his attack of Lou Gehrig's consecutive games streak while playing in his 1,308th consecutive game. Ripken would move into second place on the all-time list ahead of former Yankees and Red Sox shortstop Everett Scott. Scott played consecutively from 1918-1925.