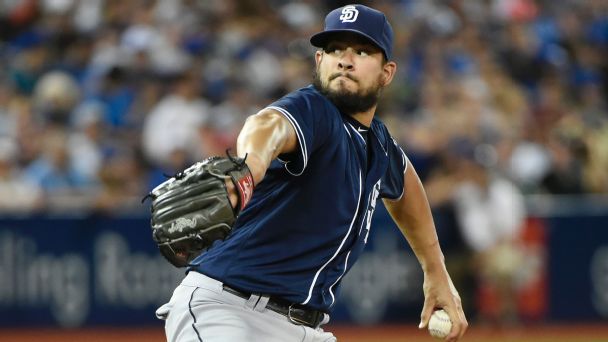 The San Diego Padres are looking for their shortstop of the future and in their journey the team has found themselves knocking on the door of the New York Yankees. The San Diego Padres have made it clear that they want New York's top prospect Gleyber Torres but as of the time of this writing Yankees GM Brian Cashman has been reluctant to give up any of his top prospects in any deal, period, especially Torres. If the Padres want to make a deal and need a shortstop of the future could the Yankees give them Jorge Mateo instead of Torres, who is injured and technically cannot be traded although the "player to be named later" route is always possible, and land a guy like Brad Hand?
The Padres are high on Hand and they have absolutely no reason they "have" to trade him but for a rebuilding team like San Diego they may see it as a way to accelerate the rebuild. Trading Hand for Mateo and maybe another prospect or two works for both sides as San Diego gets their shortstop and the Yankees get some much needed bullpen help not only for 2017 but for years to come.
At the time of his injury Torres was hitting .309 with two home runs and 16 RBI in 23 games at Triple-A Scranton after playing 32 games in Double-A as well in 2017. Hand is great and has pitched extremely well in 2017 but in no way, shape or form is he worth Torres. Torres looks to be a perennial All-Star and absolute beast in the making, you don't trade that for a relief pitcher. Period. Mateo's spot on the team in the future is not as clear as Torres' spot so moving him for something useful makes much more sense for the Yankees and for Mateo who is seemingly blocked at second base and shortstop.
The Padres have reportedly asked for Torres but I wonder if Cashman thought to counter with Mateo. If he didn't then maybe he should because the Yankees could use a guy like Hand going forward. Hand is a serviceable reliever and is under team control on a team-friendly deal for a few years making him fit into the plan to get under the luxury tax threshold after the 2017 season.
Get it done Cash.