Warning: This is the post that no fan of the New York Yankees wants to read. This will scare you. You have been warned.
The New York Mets will listen to offers regarding three of their top starting pitchers this summer including Noah Syndergaard, Steven Matz and the right-hander that every team wants, Jacob deGrom. The Mets will certainly listen to offers for any of their veterans, but the team can truly jumpstart a rebuild by trading one or all of these starters, especially deGrom. Ultimately, I believe deGrom will be traded before the end of the July 31st trading deadline, and I believe the team that will acquire his services will scare a lot of teams in the American League. Can you imagine how good the Houston Astros will be once they acquire deGrom this summer?
I know, it sounds crazy that a team so rich in pitching would be in the market for a pitcher at the trade deadline but hear me out. This move is a multi-headed monster for the Astros, hypothetically. First and foremost, the Astros know that they will at least have a tough time bringing Dallas Keuchel back via the free agent market after the 2018 season. Keuchel is set to hit free agency before his age-31 season while deGrom's earliest free agent year is the year 2021. Acquiring deGrom now allows the team to let Keuchel walk via free agency after the season while still keeping a cost-controlled and strong starting pitching staff for 2019 and beyond.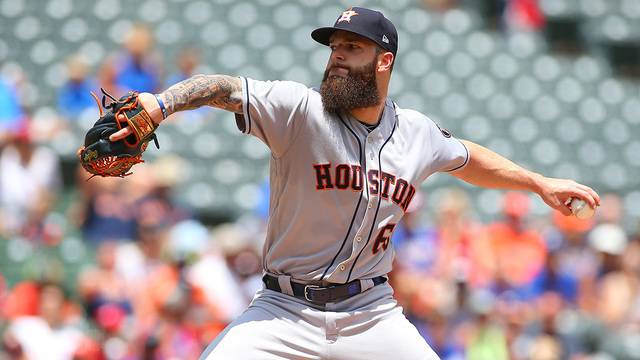 The deal could also open up an avenue where the Astros could at least consider trading Keuchel, but another reason the team "needs" deGrom is because Keuchel has not been the dominant force that he has been in the past. Keuchel is pitching to a 4-8 record with a 3.90 ERA at the time of this writing with 97 innings pitched and just 77 strikeouts. That's great for some teams to be completely honest, but Houston may look to upgrade to hold off the New York Yankees and the Boston Red Sox.
Speaking of the two mammoth giants in the American League East, that alone could be worth the Astros acquiring deGrom just to keep him away from either of those two teams. Obviously, the Astros wouldn't acquire deGrom for that sole reason, but the fact that he checks so many other boxes while keeping him away from their biggest competitors in the postseason is just too convenient and obvious to ignore.
The Astros have a strong farm system and a young team meaning they have the pieces to make such a deal work with the Mets. The Astros also have, for lack of a better term, a need for deGrom as well, so watch out for Houston if and when the Mets truly make their right-handed ace available this summer.