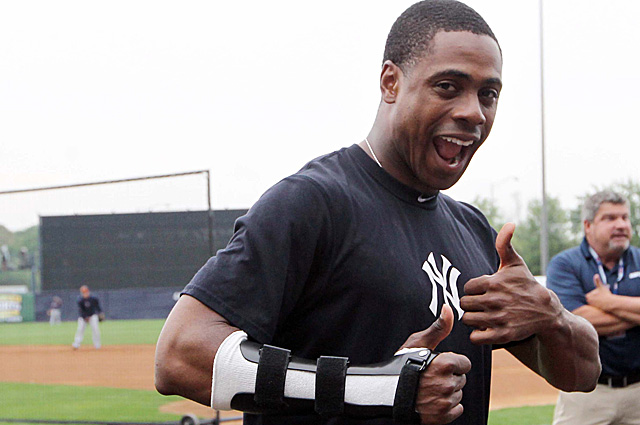 Curtis Granderson is in the final year of his deal with the New York Yankees before the will be 33 year old hits free agency this off season. Granderson had exactly one at bat in Spring Training before getting hit by a pitch and suffering a broken forearm missing the first 38 games of 2013. Granderson would not come back with all guns blazing and would struggle to get his timing back while learning two new outfield positions. Granderson would play eight games for the Yankees before taking another pitch off his left pinky and fracturing it and finding himself on the DL for at least the next six weeks. Granderson's stat line currently looks like this:
.250/.323/.393/.715
1 HR 1 RBI
6 K's
7 H's in 28 AB's
Yankees win/loss 4-4
While this is obviously not how the future free agent wanted to spend his contract year is this, for lack of a better word, a good thing for the Yankees? Currently the Yankees outfield for 2014 will showcase Ichiro Suzuki in right field, Brett Gardner in center field, and Vernon Wells in left field. Is there any way that the Yankees could, or would want to, bring back the Grandy Man for 2014? Let's be honest even if Curtis Granderson goes off for the second half of the season his stock has to be at the lowest point it is ever going to be. Would a one year "rebound" type contract worth around $10 million work out for the Yankees and Curtis Granderson? I think that type of contract would really work for the Yankees because it gives the Yankees some flexibility with his new found versatility in the outfield while giving guys like Slade Heathcott, Rob Refsnyder (yes I know he is pretty far away), Tyler Austin, etc an extra year of seasoning. This contract would also give Curtis a clean slate and another chance to cash in big in free agency while having another legitimate shot at a World Series ring.
I think this is, again for the lack of a better word, a blessing in disguise for the Yankees. They had a huge problem on their hands trying to find enough at bats for all four of their outfielders and this has been somewhat solved with the Granderson injury. I don't want Granderson hurt, I am not happy Granderson is hurt, and I want Granderson healthy and on the field for the pinstripes this season and beyond so let's say that before people get up in arms about this post. All I am saying is if the Yankees want to make a real run at the $189 million luxury tax threshold, compete in 2014, AND keep Curtis Granderson this may be the best thing the Yankees could have hoped for. He's hurt and there is nothing we can do about it now so let's call a spade and spade here. I really think the Yankees have a real shot at retaining Curtis on a one year deal for 2014 and that makes me one happy Yankees fan. 40 home run power supersedes 180 K's in my book in a balanced Yankees lineup.