The Cubs have the distinct possibility of trading their entire starting outfield this trade deadline season with the Cubs far out of contention. It is no secret that the Yankees have gotten little contribution out of their outfield this season outside of Brett Gardner, a month of Vernon Wells, and spurts of Ichiro Suzuki. Do the Yankees and the Cubs match up to make a trade to improve the Yankees outfield?
The Cubs are presumably willing to trade Nate Schierholtz. It is worth noting that Nate actually received an offer from the Yankees this off season before signing a deal with the Cubs so the Yankees will probably at least kick the wheels on him. Nate is batting .288/.338/.545 in 208 plate appearances this season so he is an obvious upgrade over anyone in our outfield not named Brett Gardner. Also he is only making $2.5 million this year and is a free agent after 2013 so that makes him even more attractive to the Yankees.
Alfonso Soriano, the former Yankee, is sporting a .245/.276/.387 mark with only seven home runs in 261 at bats but still would be an upgrade over a slumping and seemingly lost Vernon Wells. Also with that huge contract he could probably be had for relatively cheap in terms of prospects. Problem with Soriano, if you still believe the 2014 luxury tax and $189 million payroll hype, is that he slated to make $18 million next season and the Cubs probably wont eat enough of that for the Yankees to bite unfortunately.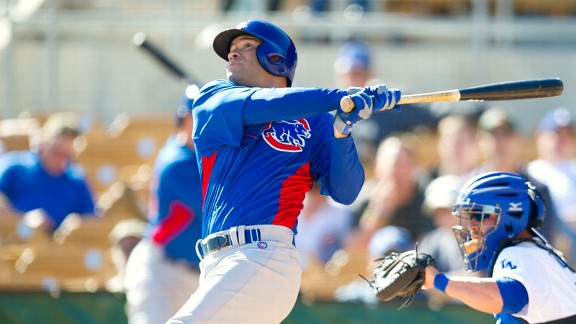 Scott Hairston was coveted by the Yankees this off season before signing with Chicago for a two year deal worth $2.5 million annually. Hairston is a right handed batter that could bring balance to the Yankees lineup but boasts a .156/.208/.344 triple slash so I cannot see the Yankees taking a waiver on him at all.
David DeJesus is currently on the 15 day DL but has put up a .260/.318/.445 triple slash and has a very nice team friendly contract. David signed a two year deal with the Cubs this off season with an option for 2015 that would make him $4.25 million in each of 2012 and 2013 with a $6.5 million club option for 2014 with a $1.5 million buy out. The Yankees have wanted David DeJesus for a long time and this may finally be the year that David is in pinstripes because it seems to be a few years too late.