Let's face it every single team is not as good in July as they thought they would be in March or April which is what makes the trading deadline so much fun for the fans. There are always those teams that are contending, pretending, buying, and selling and the Yankees always seem to be doing the latter no matter what.This is just a starting point as there are always the guys traded with more than a year left on his contract a la Alfonso Soriano from 2013, salary dumps a la Vernon Wells in 2013, and the Miami Marlins may finally trade Giancarlo Stanton but I decided to look specifically at players entering free agency after the 2014 season.
The starting pitchers market could be barren with the best free agents in Max Scherzer, Jake Peavy, Justin Masterson, Clayton Kershaw, and Josh Beckett all pitching for teams that figure to contend in 2014. The best of the rest include a 29 year old Homer Bailey and a slew of middle of the rotation starters so the Yankees may once again have to rely on their farm system to restock and retool the big league club whether in a trade or with them stepping right in. Enter the Adam Warren's, David Phelp's, Vidal Nuno's, Brett Marshall's, etc of the world as they need to finally step up and take the next step in their development. Of course a lot could change from now until next July but right now I feel if the Yankees starters are struggling again, especially CC Sabathia and Hiroki Kuroda (if my previous posts prediction comes true) we may have to just ride the wave and hope for the best.
If the Yankees bullpen struggles to transition post Mariano Rivera like many are expecting, especially outside the Yankees circle, we may be in the running for a trade or two to shore up the pen. Heath Bell has struggled outside of
Yellowstone
Petco Park in San Diego and as a closer since leaving the Padres but what about as a 7th inning type? Would the Yankees be willing to have a David Aardsma reunion? Honestly the Yankees one bright spot of their farm system since Joe Girardi has been at the helm has been building the bullpen from within and I see that being the case again next season if needed. Brett Marshall, Chase Whitley, Nik Turley, Tommy Kahnle, and Shane Greene could lead the charge of the latest Yankees farm system arms to come and tear up the major leagues and in Joe Girardi's build on the fly bullpen.
Surely between Francisco Cervelli, Austin Romine, JR Murphy, and Brian McCann the Yankees will be set, productive, and happy with their battery mates behind the dish so we will not look to upgrade in that position. Between Kelly Johnson, Michael Young, and the man formerly known as Eduardo Nunez the Yankees can piece together a second basemen worthy of being a major leaguer. The Yankees, as we remember, will be sacrificing offense for defense at short stop and unless Brendan Ryan is injured we will be fine at short stop with the best defending short stop in all of baseball. The outfield is pretty set with the likes of Brett Gardner, Alfonso Soriano, Curtis Granderson, Ichiro Suzuki, and Zoilo Almonte. I fear that an aging and declining Michael Young may be something of a worry for Yankees fans even splitting some time with Mark Reynolds though so we may be looking for an upgrade there with a big free agency target presumably sitting out on the pond for us to make a run at.
If Michael Young and Mark Reynolds finally start to decline to the point where they stop being useful or go back to their old ways the Yankees may have to open the purse strings and farm system a little bit for a corner infielder. There is one player in San Diego that the Yankees have been looking at for a few years now named Chase Headley that is set to be a free agent after the 2014 season so could the Yankees FINALLY get their man? I think so as I cannot see the Padres signing Headley long term and I really cannot see why a power hitter would want to stay in San Diego let alone with a perennial losing team. Pencil in Headley as the Yankees third basemen from August 1st 2014 to the end of the season.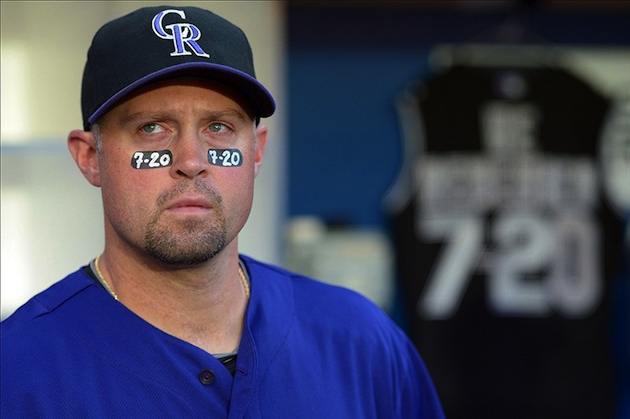 If Ichiro is struggling, much like he has this season, I could see the Yankees making a run at Colorado Rockies right fielder Michael Cuddyer. The Yankees would be lacking some right handed pop in that outfield outside of Alfonso Soriano so a Cuddyer acquisition would really balance both the lineup and the outfield. This is obviously depending on the Rockies being out of contention once again in July of 2014 but at this point I cannot see many signs of them making huge strides next season.
Throw in Chase Headley and Michael Cuddyer into the Yankees lineup next season and we have a lineup that looks a whole lot like this for the stretch run of 2014 and it looks like a damn winner to me if I do not say so myself.
1. Gardner
2. Headley
3. Granderson
4. Soriano
5. McCann
6. Teixeira
7. Cuddyer
8. Johnson
9. Ryan
BN: Cervelli/Romine
BN: Reynolds/Young
BN: Nunez
BN: Ichiro/Almonte