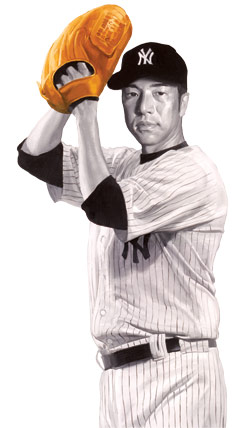 The 2014 Yankees Free Agents In The Starting Rotation
Hiroki Kuroda
Andy Pettitte
Phil Hughes
The Yankees went into the 2013 season with a less than stellar offense but a pitching staff that was set up to carry the team all the way to the promised land. That plan obviously did not work out the way that any of us expected or hoped it would and the Yankees look primed to try and do so again in 2014. The Yankees are losing their ace in Hiroki Kuroda, their savvy veteran and long time Yankees pitcher in Andy Pettitte, and former #1 prospect that never quite panned out Phil Hughes to free agency this year and will surely be looking to add at least one veteran arm to go with CC Sabathia at the top of the rotation.
Here
is the complete list of 2014 free agents but I will hit the high spots and realistic options for the Yankees in this years free agency period.
AJ Burnett (37 years old)
Dan Haren (33 years old)
Matt Garza (30 years old)
Phil Hughes (28 years old)
Josh Johnson (30 years old)
Hiroki Kuroda (39 years old)
Tim Lincecum (30 years old)
Ervin Santana (31 years old)
Edison Volquez (30 years old)
As many of you probably do not know I am the biggest AJ Burnett fan you will find this side of his wife and kids, shout out to Karen Burnett, and admittedly that is the only reason he is on this list. I hated when they traded him to the Pittsburgh Pirates and I hated even more having to pay around $8,000,000 for him to pitch for the said Pirates so I would personally welcome him back into pinstripes if I were a fan running the team. Obviously I know that will not happen and should not happen but I had a little fun with it, sue me. Dan Haren is an intriguing option but thoroughly struggled with the Washington Nationals this season and may not be a good fit for the Yankees in 2013. Phil Hughes is a fly ball and home run prone pitcher and that just does not translate well into the new Yankees Stadium, which was made painfully obvious in the 2012 season. Josh Johnson is a power arm but struggled in his first season in the AL East with the Toronto Blue Jays and has a injury history that would keep me away, far far away. As intriguing as Tim Lincecum and Mr. 150-ish pitch no hitter would be I think the Yankees would be more interested in "The Freak" as a relief pitcher and not so much as a starter so I think we ultimately pass on the two time Cy Young Award winner.
The two guys I want on the pinstripes in 2014 are Hiroki Kuroda and/or Matt Garza. Hiroki has basically said that he will finish his career with his old team in Japan and will only sign with us or his former team, the Los Angeles Dodgers, before doing so. No one knows when he will finally return to Japan but it may or may not be for the 2014 season and the Yankees need to plan for that. Obviously the Yankees will offer Kuroda another qalifying offer which would snag us a draft pick if he does decide to leave for the west coast Yankees to play for the Dodgers. If he decided to go to Japan then obviously we get nothing but a huge hole in the starting rotation that I do not think we have anybody currently on the roster that can fill. That is where Matt Garza comes in entering his first free agency in his age 30 season. Matt Garza is not only American League tested but also AL East tested pitching for the Tampa Bay Rays and the Texas Rangers while also spending a couple seasons with the Chicago Cubs. Garza has killed the Yankees over the years and the Yankees seem to always find a way to get the "Yankees killers" on their team before their playing careers are over.
If I am the GM of the Yankees I hand Kuroda another one year deal with the dollar amount left blank with a note attached saying something along the lines of "fill in the blanks and take your time." If anyone on this team deserves a one year blank contract it is definitely Kuroda who has been our ace for two seasons now. I would not expect Kuroda to sign for more than $16,000,000 and he would be worth every single penny of it. If we had to go to "Plan B" with Matt Garza then we may have to reach a little deeper into our pockets. Garza is finishing up a $10,250,000 deal and could easily reach the $16,000,000 that I mentioned earlier for Kuroda. The years would worry me with Garza as he would probably want around a five or six year deal and I am not entirely sold on that kind of long term deal but I think I would ultimately fold to the pressure, even at a six year deal. Adding Hiroki Kuroda as a "Plan A" and/or Matt Garza as a "Plan B" would give the Yankees a pretty impressive, although question mark filled, rotation that looks something like this in no particular order.
CC Sabathia
Hiroki Kuroda/Matt Garza
Ivan Nova
David Phelps
Michael Pineda