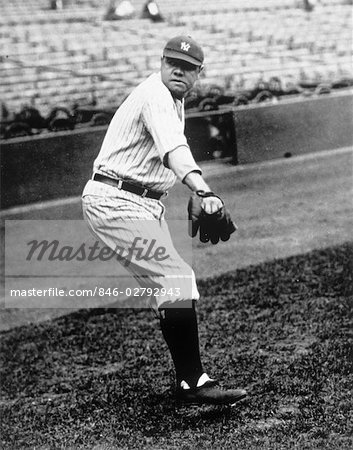 On this day in 1920 Babe Ruth tossed four innings as a starter and hit cleanup for the New York Yankees in a 14-7 victory over the Washington Senators in the Polo Grounds. Babe Ruth is still fresh over from the Boston Red Sox where he was an accomplished hurler in Boston and known for his ability to hit the ball as well.
During Ruth's 15 years as a member of the New York Yankees he would take the mound just five times for the Bronx Bombers including a complete game victory in 1933. He hit a few home runs for them though...
On this day in 2009 the Yankees would beat the Indians 5-2 and also establish a major league record by playing in 18 straight games without an error. The new record passes the 2006 Red Sox record for the most games without committing an error but would end the very next day when Jorge Posada throws a ball into center field trying to catch a base stealer.