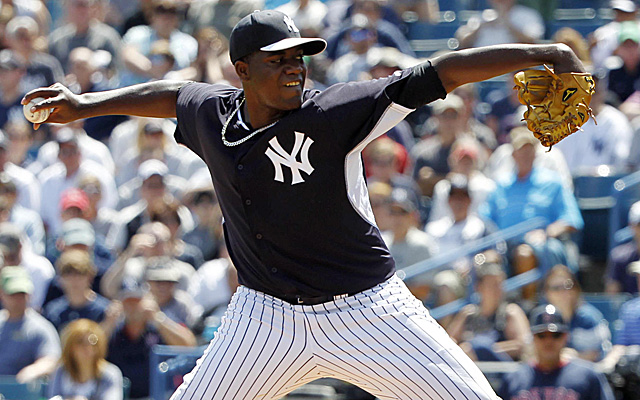 The New York Yankees made headlines last offseason when they extended one of their own in Brett Gardner to a deal before his current deal expired. This sent shockwaves through the organization due to the fact that the Yankees had a long unwritten rule that the team refused to even negotiate with a player before their current deals were up. The team didn't do it for Derek Jeter, Mariano Rivera, Andy Pettitte or Jorge Posada but they did it for Gardner. With that now archaic rule in the past should New York and Brian Cashman take advantage of his new found freedom to lock up Michael Pineda and Nathan Eovaldi now?
Pineda came over with five years of team control left on his deal when Seattle sent him to New York for Jesus Montero (with other pieces involved obviously) and two of those seasons went by the wayside due to injury. New York finally got a glimpse into their future in 2014 with Pineda who showed that when he was on the mound he could still absolutely dominate hitters. Young pitching, especially young power pitching, is not hitting the free agent market anymore and is becoming harder and harder to find making Pineda almost a no-brainer to extend a four or five year deal to. Pineda's remaining arbitration years could be bought out and the Yankees could buy a year or two of his free agency and Pineda would still be 30 years old as a free agent making the deal attractive to both sides.
The same could be said for Eovaldi who is just 25 years old. His case is not as much of a slam dunk since the team does not know what they will be getting from the fire throwing right hander, especially coming from the NL East and going to the AL East, but it may be a risk worth taking. Once again it's hard to find young power pitching that can touch 98-100 MPH. Eovaldi has had his problems in the past, leading the NL in hits allowed in 2014 for example, and it's definitely a high risk situation but it could also be a high reward situation. Eovaldi would not be the first, nor the last, to add movement, command, a new pitch, whatever to his repertoire later in his career and be successful. Whether it happens or not remains to be seen but if it happens before the team extends him the price tag only goes up.
Whether Cashman pulls the trigger on these extensions or not remains to be seen but in my personal opinion I think it makes too much sense not to extend at least Pineda before the 2015 season.