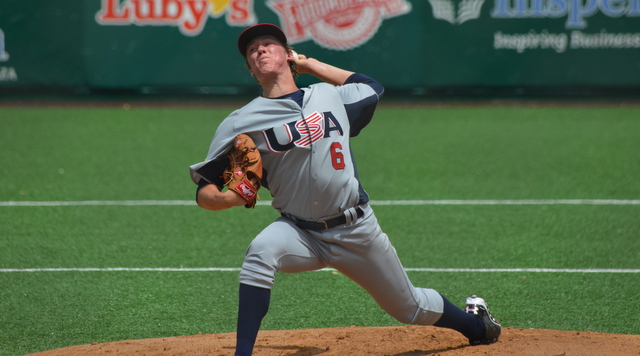 Keith Law is not a name and a source that I generally trust when it comes to prospects only because of his dislike for certain New York prospects, namely Luis Severino, but when he talks about the MLB First Year Player's Draft I tend to put my differences aside. Law knows the MLB Draft as well as or better than most so when he released his 2015 MLB Mock Draft V 2.0 I felt compelled to read and then leave that here for you to read as well. As we all know the Yankees have three picks in the first 60 or so picks and an absolute ton of cap space to spend on their picks this season. The Yankees related results are below only since the article requires subscriptions. Enjoy as much as you can and if you like it then go buy a subscription because Law puts in a ton of work into these mock drafts and generally everything that he does.
With the Yankees first pick, 16th overall, Law has the Yankees taking California High School LHP Kolby Allard after having the team take Pennsylvania High School RHP Mike Nikorak in his first mock version. Allard was considered to be the best left handed arm in the draft before missing two months this season with a stress reaction in his back that caused him to miss the remainder of the season. Allard has two plus pitches with a fastball that can touch 96 MPH and a tight curveball to go along with his raw changeup. Allard has a smaller build, think Severino, and may need to go to the bullpen before his career is said and done.
With the 30th pick the team may be interested in California High School catcher Chris Betts, New York High School outfielder Garrett Whitley or Tennessee High School RHP Donny Everett.