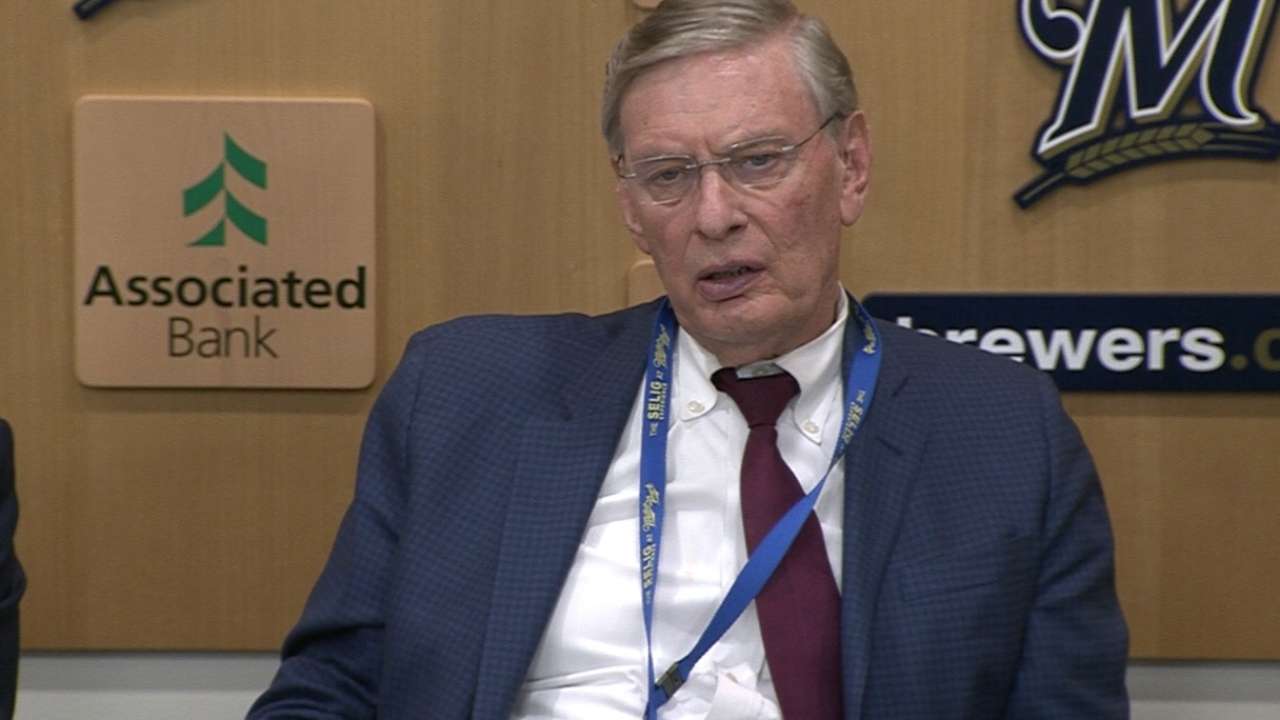 MILWAUKEE (AP) — The Milwaukee Brewers are giving retired baseball commissioner and former team owner Bud Selig a high-tech tribute.
"The Selig Experience" attraction at Miller Park was unveiled to Selig, current Brewers owner Mark Attanasio and other dignitaries on Thursday night. Selig described the exhibit as an "out-of-body experience."
"When I look at all this, I say to you all, 'Boy, have I been lucky,'" Selig said on a stage set in center field set against the backdrop of the team's giant video board. The Brewers were off on Thursday.
Hall of Famers Hank Aaron, Joe Torre and Robin Yount attended the event, along with Green Bay Packers president Mark Murphy, University of Wisconsin athletic director Barry Alvarez, and current MLB commissioner Rob Manfred.
The highlight of the attraction is a remarkably realistic, hologram-like video of Selig displayed at the end of a nearly 15-minute multimedia presentation recapping the history of the franchise.
"I'm telling you that when I saw it, I couldn't believe it," Selig marveled.
The holographic Selig speaks in a scene replicating his messy office at old County Stadium, with a simulated Tiparillo cigar lying smoldering in an ashtray.
"Bud, this ensures your spirit will live forever at Miller Park," Attanasio said during a dedication ceremony.
Selig's title is now "commissioner emeritus" after a tenure of 22½ years as baseball's leader ended in January.
His place in Milwaukee baseball history was cemented long before he became commissioner.
Now 80, Selig led efforts to bring baseball back to his hometown after Milwaukee lost the Braves to Atlanta after the 1965 season. He finally succeeded in 1970, when the Seattle Pilots moved to the Midwest and became the Brewers.
The exhibit starts with video walls of old Brewers baseball cards. Visitors then pass Selig's replica office before entering a memorabilia-lined room.
Included are the lineup cards for the Brewers and visiting Cincinnati Reds from April 6, 2001, the day that Miller Park opened. Selig also led the drive to build the retractable-roof stadium.
The park isn't quite as high tech as the exhibit's life-like hologram of Selig, who appears thanking fans before the video closes with him shuffling his hands into his khaki pants.
Selig said he spent four hours posing during spring training in Phoenix for the hologram.
"When I saw the hologram, I would say my heart went in my mouth," Attanasio joked. "I knew it was coming. It was like going to a scary movie."
The exhibit opens to the public Friday, when the Brewers open a three-game series against the Arizona Diamondbacks.