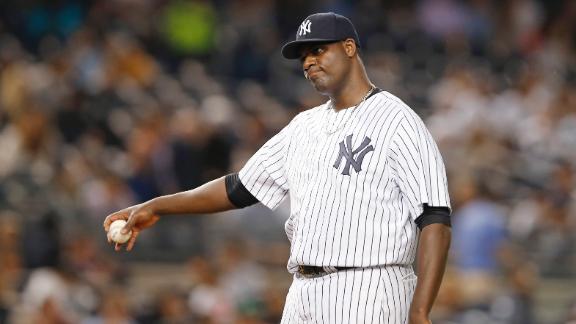 The New York Yankees have three more games at home this week before heading out west to take on the first place Houston Astros. The Yankees will begin that three game series tonight inside Yankee Stadium when they play host to Ryan Howard and the Philadelphia Phillies. The Yankees will send Michael Pineda to the mound tonight to face off with the Phillies starter Kevin Correia. The game will be played at 7:05 pm ET and can be seen on WPIX Channel 11 and MLB TV.
Pineda bounced back well from his previous start last time out as he dominated the Miami Marlins for 6.2 inning allowing just one run with nine strikeouts. Pineda flirted with a no-hitter before giving up a solo home run in the 7th inning as he bounced back from a terrible start against the Baltimore Orioles.
Correia hasn't been with the Phillies for long but has pitched well in his two starts with the team. Correia posted a 1.69 ERA in his two starts including a loss against the Baltimore Orioles where he allowed two runs in five innings including two home runs.
The Yankees must take advantage of this three game series with a last place team in the National League East Division while the team they are chasing, the Tampa Bay Rays, and the team they are trying to hold off, the Toronto Blue Jays, face off head-to-head for three games. If the Yankees want to reclaim first place it starts tonight with the Phillies and Michael Pineda. Go Yankees!