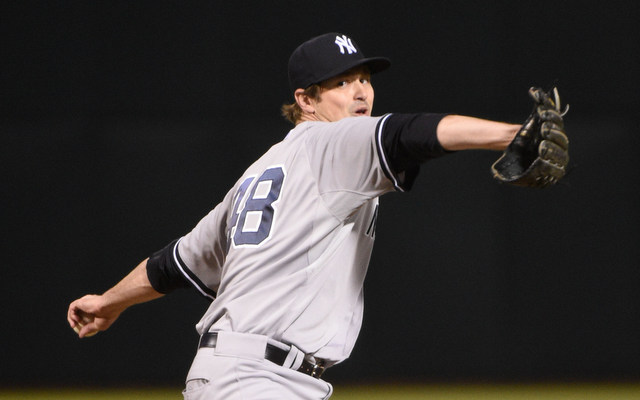 Andrew Miller is on the disabled list, Dellin Betances is the team's new closer and Chris Martin was called up to take Miller's roster spot in the bullpen. This much we do know but what we don't know is how the bridge to Betances is going to hold up over the next three weeks or so while Miller is on the disabled list. Have no fear Yankees family as I have a plan to get us by until Miller returns like I always do, whether the Yankees listen to and follow it is another story for another blog post though unfortunately.
The solution is simple, activate Ivan Nova off the 60 day disabled list and plug him into the starting rotation this weekend in Baltimore. Let Nova start the Sunday game inside Camden Yards after reaching around 85 pitches in his rehab start on Monday. Pitching Sunday gives Nova five days of rest and would allow him to get around 90-100 pitches against the Orioles if he's effective. Joe Girardi would then be able to move Warren into the 8th inning role with Martin and a combination of Chasen Shreve and Jacob Lindgren helping out in the 7th inning helping to bridge the gap to Betances. Girardi was not giving Warren a shot to go above 90 pitches anyway so the usual strain on the bullpen would be no less than it would be if Warren were to make the start on Sunday. If worse comes to worse you have Warren available for long relief help in the bullpen on Sunday and beyond for a few weeks since his arm is already stretched out.
I realize that Warren may be our third best starter this season behind Michael Pineda and Masahiro Tanaka and I also realize that Nova may never be the 16 game winner he was for the Yankees a couple years back but the move still needs to be made. Having Warren pitch seven great innings in the rotation means nothing if the lead is given up in the 8th inning consistently by the bullpen. Having Warren pitch seven great innings means little to nothing if Betances is unavailable to close on a particular day and the team is forced to take less proven pitchers with them into the 9th inning and roll the dice. Warren can start, he can pitch the 7th or 8th innings, he can be the long man and he has closed out games in New York making him the obvious choice to go to the bullpen while Nova takes his spot in the rotation.
If we were playing MLB The Show on PS4 I wouldn't even suggest it but this is real life and the Yankees have a huge hole in their boat that is aptly named "The Bullpen" and Warren plugs that hole and then some. Make the move, even though you probably won't.