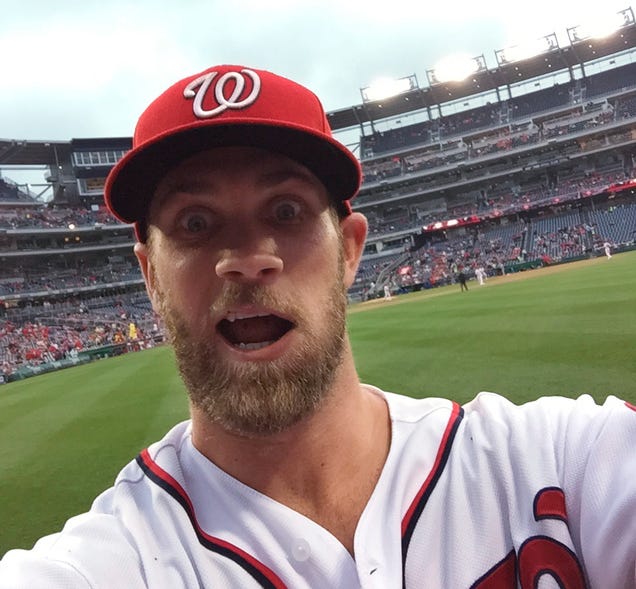 With just a couple more hours to go before the New York Yankees take on the Washington Nationals inside Yankee Stadium I wanted to go over a quick plan just in case Joe Girardi and company just happen to be reading. I have a plan and that plan starts with how to attack the Nationals hitter and one hitter in particular. Do not, I repeat DO NOT, pitch to Bryce Harper in this series. Harper is having a great season, loves the limelight of hitting on the big stage with no stage bigger than Yankee Stadium and is easily the Nationals best and most potent hitter in the lineup. Do not pitch to him, period. I know it seems like I am stating the obvious right now but if you watched the Yankees pitchers continually pitch to him in the first series, by the way New York got swept in that series, and if you watched the Yankees pitchers continually pitch to Stephen Vogt when they were playing the Oakland Athletics, FYI the team lost that series too three games out of four, then you understand why the obvious needed to be put into print and needs to be said one more.
Albert Pujols and Mike Trout did not get much to hit in the last series with the Angels and New York swept them, coincidence? The Seattle Mariners offense lacks that true bat outside of Nelson Cruz, who again FYI got little to nothing to hit all series long because of Robinson Cano's struggles, and the Yankees swept them too. It's not rocket science here folks, there is going to be one batter in every lineup that absolutely should not and cannot beat you and that batter should not see anything over the middle of the plate. It's Trout in Los Angeles, it's Cruz in Seattle, it's Vogt in Oakland and it's Bryce in Washington.
The offense is going to have to run into one tonight with Max Scherzer on the mound but if you're searching for positives out of this pitching matchup then you must remember that the Yankees have killed right handed pitching this season. Girardi loves to stack his lefties and switch hitters up against pitchers like Scherzer and generally against any left-handed pitcher and I expect nothing less from the Yankees manager tonight. Stephen Drew has hit better and so had Didi Gregorius of late while Carlos Beltran, Brian McCann and Mark Teixeira have remained hot so while it will be no easy task the Yankees do have something going for them heading into the series. The Yankees have their now potent offense and they also have some guy named Masahiro Tanaka on the mound for them tonight in the Bronx
Expect a pitcher's duel and a Rob Manfred Special, three hour game or less, as long as the Yankees stick to the plan and have no problem with stating the obvious. Don't pitch to Harper, swing at the first strike that Scherzer throws you, get a good pitching performance from Tanaka and ride Dellin Betances and Andrew Miller into the sunset after the off day yesterday and with the off day on Thursday. Yankees keys to victory, you're welcome.