Yogi Berra, quite possibly one of the best players to ever play Major League Baseball, passed away this week of natural causes in his sleep. Berra was living in an assisted living facility in West Caldwell, New Jersey and was 90 years old. Berra died on the same day he made his major League debut 69 years prior. With heavy hearts and teary eyes we remember Yankees of the past, we remember Mr. Yogi Berra.
"It ain't over 'til it's over."
Lawrence Peter "Yogi" Berra was born on May 12, 1925 in a primarily Italian neighborhood of St. Louis, Missouri called "The Hill." Berra was born to a pair of Italian immigrants Pietro and Paolina Berra. Pietro came to Ellis Island, New York on October 18, 1909 at the age of 23 and nicknamed his son "Lawdie" which was derived from his mother's inability to pronounce the names "Lawrence" or "Larry" correctly. Berra attended South Side Catholic School, now known as St. Mary's High School, in south St. Louis but quit after the eighth grade to begin playing baseball in the local American Legion Leagues. There Berra learned the basics of catching, playing the outfield and the infield but more importantly earned the name "Yogi" from Bobby Hofman who thought Berra resembled a "Hindu yogi" when he crossed his arms and legs when he sat down waiting to bat or the way he looked depressed and sad after losing a game.
"Always go to other people's funerals otherwise they won't go to yours."
In 1942 Berra hoped to sign with his childhood favorite team the St. Louis Cardinals but then Cardinals president Branch Rickey instead signed his boyhood best friend Joe Garagiola. Berra reportedly took the news tough but Rickey had an ulterior motive. Rickey was set to leave the Cardinals to join the Brooklyn Dodgers and wanted to bring Berra with him but the New York Yankees came calling first offering his a $500 bonus, the same bonus that Garagiola received from St. Louis. Berra's minor league career was cut short after he served in the U.S. Navy during World War II as a gunner's mate on the USS Bayfield. Berra was on the ship when the Americans stormed the beaches of Normandy in an attempt to take back France on what is now known as D-Day in the history books.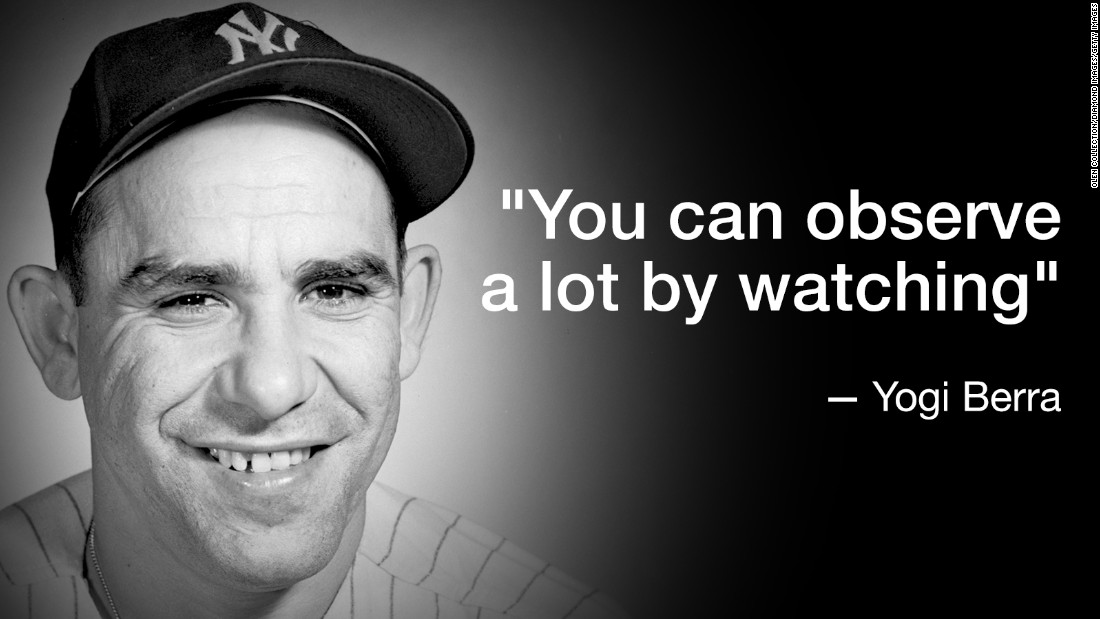 "You can observe a lot just from watching."
Berra made his Major League debut with the Yankees in 1946 playing in just seven games before getting into 83 contests in 1947. Berra finished his Yankees playing career playing in over 100 games fourteen different times while also appearing in fourteen World Series, winning 10 of them. Berra played in 75 World Series games, had 259 at bats, 71 hits, 10 doubles, 49 singles, played 63 games as a catcher and had 457 catcher putouts, all World Series records that still stand today. Berra also hit the first pinch-hit home run in World Series history when he stepped up to the plate in Game Three of the 1947 World Series against the Brooklyn Dodgers. Berra took Dodger's pitcher Ralph Branca deep, that same Ralph Branca that gave up Bobby Thomson's famous "Shot Heard 'Round the World" just four years later. Berra was a 15 time All-Star and was selected to 18 All-Star Games overall (MLB held two All-Star Games from 1959-1962) and won the AL MVP Award three different times never finishing lower than fourth in the voting from 1950-1957.
"If I can hit it, it's a good pitch."
Berra never truly got the recognition that Mickey Mantle or Joe DiMaggio got but it was Berra that kept the Yankees offense going for the most part during his tenure. It was also Berra's defense and game calling, which was on full display when Don Larsen threw the only perfect game in World Series history with Berra behind the plate in the 1956 World Series, and his playing style was something for the newer generations of baseball players to look up to. Berra could hit bad pitches and cover the entire strike zone with a consistency unseen at the time in Major League Baseball. Berra had more home runs than strikeouts in five different seasons in his career and the Yankees catcher quickly became the original "clutch hitter" in the game. Berra, with a finger outside of his catcher's glove, was also a great defender that simply did not make errors or bad throws while behind the dish. Most catchers now emulate Berra with the finger outside the glove and could only hope to be half as good as Yogi was in the assists and fielding percentage areas of the game.
"It's deja vu all over again."
When Berra got too old to catch he became a good defensive outfielder for the Yankees and even manned the usually tough left field at the stadium. There was nothing that Yogi couldn't do which is why when he retired after the 1963 World Series he became the Yankees manager replacing Ralph Houk. Berra led the Yankees to the World Series in 1964, this time as the manager, but was not able to get the team past the St. Louis Cardinals in seven games. After just one season and a World Series trip Yogi Berra was fired as the manager of the New York Yankees.
"When you come to a fork in the road, take it."
The Mets quickly signed Berra to be a coach on their staff and even allowed him to make four appearances as a catcher early on in the season. Berra was reunited with long time manager Casey Stengel with the Mets and stayed with New York's other team for eight seasons, including their 1969 World Series run. Berra officially became the manager of the Mets in 1972 and led the team to an NL East Division crown. Berra was back in the postseason with the Mets in 1973 and even led the team over the heavily favored Big Red Machine en route to a National League pennant. The Mets fell to the Oakland Athletics in that World Series but it took them seven games before they fell.
"Nobody goes there anymore. It's too crowded."
Berra was fired as the Mets manager on August 5, 1975 after compiling 298 wins and 302 losses including postseason play. In 1976 Berra was back with the Yankees as a coach when the team won three consecutive American League pennants and the 1977 and 1978 World Series titles. Berra was back as the team's manager before the 1984 season but turmoil was back in the Bronx before the 1985 season due to owner George Steinbrenner. Steinbrenner had to convince Berra to stay on in 1985 by assuring him that he would not be fired. A mere 16 games into the 1985 season Steinbrenner fired Berra leaving the former Yankees catcher and Yankees legend to boycott the Yankees, Mr. Steinbrenner and Yankee Stadium all together.
"90% of the game is half mental."
Berra continues his coaching career in 1985 when the Houston Astros signed him to be the bench coach. Berra faced off against his former team, the New York Mets, in the NLCS in six games and remained on with Houston for three more seasons before officially calling it quits after the 1989 season. Berra remained away from the Yankees and outside of Yankee Stadium until in 1999 when George Steinbrenner went to his house to personally apologize in person for his firing and the way it was handled. Berra and Steinbrenner were able to end a 14-year estrangement with the Yankees organization and invited Berra to spring training camp that season to work with the Yankees young catcher Jorge Posada. Berra was back in the Bronx.
"Thank you for making this day necessary."
When his playing career was said and done Berra was an All-Star a whopping 15 times and won the American League's MVP Award three different times. Berra appeared in the World Series 21 times as a player, coach and manager and won 13 of them, 10 of them coming as a player for the New York Yankees. Berra was voted into the MLB All-Century Team by the fans in 1999 and even managed both an American League and National League team to the World Series. Berra's career in Major League Baseball was one to envy but the young Italian was far from living when he finally called it quits. Berra had his #8 jointly retired with Bill Dickey in 1972 and watched last night from heaven as the Yankees wore his #8 on their jersey sleeves in Toronto.
"I really didn't say everything that I said."
Yes you did Yogi and we love you for it. May you rest in peace and keep 'em rolling until I get there to join you! Love you Yogi!