As we know the Yankees have a ton of money and contracts coming off the books after the 2016 and 2017 season including these major contracts (with their AAV's in parenthesis) that will have to be replaced before 2017. For the sake of simplicity we are going to assume here that CC Sabathia does not retire and that his vesting option for the 2017 season triggers making him a warm body on the roster in 2016. Let's take a look:
1B: Mark Teixeira ($22.5 million)
Best 1B available on free agent market: Michael Cuddyer, Kendrys Morales, Edwin Encarnacion, James Loney, Adam Lind, Pedro Alvarez and Michael Morse.
First baseman Mark Teixeira is easy to replace, barring a catastrophic injury or moronic (in my opinion) trade of Greg Bird you have to think that Bird will be the word in New York for the foreseeable future. The Yankees already began priming Bird for the position this season and will call him up at the first sign of trouble next season in my opinion. He showed he can slow the game down and not only handle Major League caliber pitching but dominate it at times. Exit Teixeira, Enter Bird.
RF: Carlos Beltran ($15 million)
Best RF available on free agent market: Jose Bautista, Josh Reddick, Mark Trumbo, Michael Saunders and Gregor Blanco.
The New York Yankees as a whole have changed, haven't they? I've been asked to predict a lineup for the 2017 season and with big money coming off the books I'm not predicting major free agent signings. No, I'm predicting that players coming through the Yankees farm system and are given a shot to succeed with the club. Enter Aaron Judge. Yes, he struggled for much of the second half of the 2015 season in Triple-A with the Scranton/Wilkes Barre RailRiders but if you look at the stats and match them up with the timeline of the season you can see that his stats went down after his mystery back injury that was "no big deal" was reported. Back injuries can be scary, especially for big guys like Judge, and they can affect your swing immensely. Judge has all offseason to rest and rehab the back and has all of 2016 to prove he belongs, but he doesn't have to prove it to me. He's starting in right field for me on Opening Day 2017.
SS: Brendan Ryan ($2 million)
Best SS available on free agent market: Alexei Ramirez, Erick Aybar, Daniel Descalso, Ruben Tejada, Justin Turner and Chris Volstad.
Ryan is listed as a shortstop but really he's a bench piece and the backup to Didi Gregorius. I could predict that a Jorge Mateo, Tyler Wade, Abi Avelino or even Jose Pirela could take the spot and keep with the theme of this post but there's too many question marks there. Instead I'll take a wild pick of Alexei Ramirez, a veteran right-handed bat with some pop coming towards the end of his career, to take Ryan's spot. I expect a trade to fill the position before I expect a Ramirez signing but for the sake of this post we will go with Ramirez on a modest $3 million base salary and AAV.
SP: Ivan Nova (arbitration eligible until 2017 but we'll go with $4 million for an even numbers sake)
Best SP available on free agent market: Jered Weaver, John Danks, Jorge De La Rosa, RA Dickey, Bronson Arroyo, Edinson Volquez, Scott Feldman, Andrew Cashner, Jesse Chavez, Stephen Strasburg and Dillon Gee.
Honestly I can see Nova being off the club before the 2017 season and his first shot at free agency comes around. Since that's too hard to predict we'll assume he makes it all season in pinstripes in 2016 and tests the free agency waters in 2017. Looking at the starting rotation I see Masahiro Tanaka, Michael Pineda, Luis Severino, Nathan Eovaldi and CC Sabathia still under contract so I can't see the Yankees spending heavily on a starter here. Andrew Cashner is the most attractive piece of the bunch in my opinion but the problem with that is you pay for that. Stephen Strasburg is more hype than promise at this point in his career but he has a full season to turn those thoughts around. Jesse Chavez is the most likely signing for the Yankees because he is quietly a great pitcher that won't command the huge deal that many others would but in the end I can see the Yankees signing no one and, for lack of a better term, pocket the roughly $4 million from Nova and allocate it elsewhere.
Total players coming off the books: 4
Total money coming off the books: $43.5 million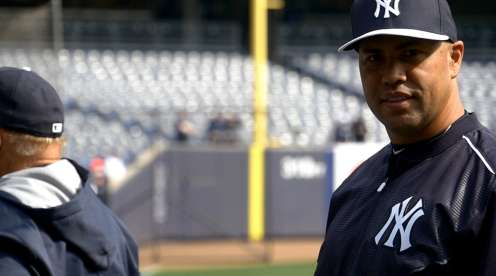 Adding the likes of Bird, Judge and Ramirez to the already existing contracts of Jacoby Ellsbury, Brett Gardner, Didi Gregorius, Brian McCann, Robert Refsnyder (I'm assuming he takes over and keeps the second base job), Alex Rodriguez and Chase Headley gives you a lineup that looks a little something like this.
Ellsbury
Refsnyder
Rodriguez
McCann
Bird
Headley
Gardner
Judge
Gregorius
I cannot see the Yankees eating the contract of Alex Rodriguez, especially after his comeback season of 2015, and I can't see Alex walking away from his final season of his monster contract. Brett Gardner may be traded this offseason, that's the trouble with doing these prediction posts so early in the offseason, and so could Refsnyder eventually but this is how it stands today. What are your predictions? Leave them below in the comments section or shoot us a tweet on Twitter and give @GreedyStripes a follow. Just don't hit the like button on Twitter, this isn't Facebook.