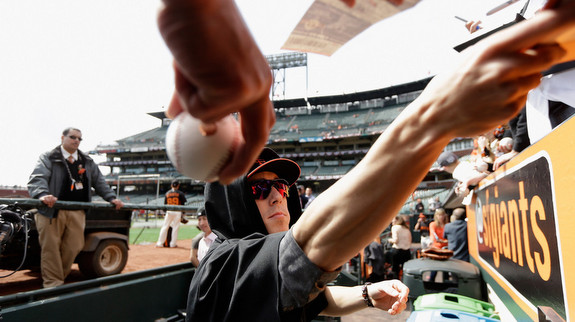 The New York Yankees have not signed a major league free agent for more than a calendar year now and have not signed any during the winter before the 2016 season. New York is the only team not to sign a MLB free agent this offseason but they have one pitcher on their radar that could change that, former San Francisco Giants and Cy Young Award winner Tim Lincecum.
According to rumors the Yankees are at least interested in Lincecum as he prepares to put on a throwing showcase for teams next month in hopes of landing a new deal. While the deal will likely be, and should be in all honesty, a minor league deal teams like the Yankees may have to guarantee the deal in order to sweeten the pot a bit for Lincecum.
Lincecum is still only 31-years old and while injuries have derailed his career a tad the "freak" threw for his first positive WAR season (0.3 in 2015) since 2011 this year. Lincecum would bring the veteran presence that the Yankees love along with an absolute ton of playoff and World Series experience to a club on a very low risk and high reward type deal. Lincecum is no longer the ace he was in San Francisco but he still could be a solid #3 to place behind Luis Severino and Masahiro Tanaka or he could be a nice piece out of the bullpen as well. It all comes down to the health of his hip.
Early reports out of Lincecum's camp say that he is healthier than he has been in years and is throwing every single day in preparation for the 2016 season. Of course the Lincecum camp is going to say that though, why wouldn't they? The true test will be the showcase and while the team hasn't formally announced it you have to think they will send scouts there to watch.
You have to think that all 30 MLB teams will be interested in Lincecum in some capacity so if the Yankees are truly serious about adding another low-cost arm they may have to pony up the 40 man roster spot and guaranteed deal with incentives for Lincecum. Honestly, I'm okay with that. It's just money and the problem can be rectified with a simple DFA if it doesn't work out. Get it done Cash before some other GM does. Or before Tom from Myspace does…