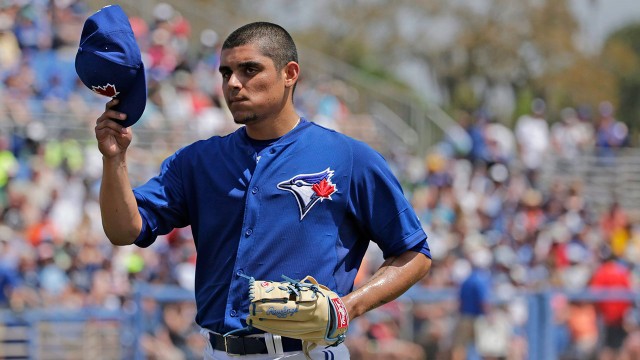 Pitchers and catchers have reported to their various spring camps and first workouts are already underway as we inch closer to the 2016 regular season. As we inch closer to the 2016 regular season we also inch closer to the 2016 Fantasy Baseball season and your fantasy baseball drafts if you haven't had yours already. I tend to like to wait until March, sometimes even late-March, before having my draft because so many things can happen between the beginning of spring training and the beginning of the regular season with injuries and spring training competitions being at the top of my precautionary list. You can't predict or analyze injuries for the most part but you can analyze and take a stab at predicting the spring training competitions though and I will attempt to do just that in hopes of helping you with your upcoming fantasy baseball drafts.
We'll start in the American League East with the Toronto Blue Jays and their closer situation. Will it be Roberto Osuna or will it be recently acquired Drew Storen? Storen could close and the Blue Jays could opt to place Osuna in the starting rotation or they could place Aaron Sanchez in the rotation and let Osuna and Storen battle it out for the 9th inning. In my opinion I think the team attempts their own dominant back end of the bullpen and at least starts the season, barring one disaster or amazing spring training from either one of these men, with Storen in the 8th and Osuna in the 9th.
Sticking with the AL East theme we head down to Tropicana Field with the Tampa Bay Rays to try and sort out their outfield, first base and DH position battle they have going on. As it stands now Kevin Keirmaier is a lock for the team with Corey Dickerson, Steven Souza, Desmond Jennings, Steve Pearce, Logan Morrison and Mikie Mahtook vying for playing time. The team also has James Loney at first base but with capable first base options like Morrison and Pearce his job may be on the line as well. This is going to be one of the tougher ones to predict but you have to think Dickerson gets one of the starting spots with Keirmaier and Jennings while Loney stays at first base and Morrison spends much of his time at the DH position. Pearce should see plenty of time off the bench though and is eligible at multiple positions this season once again.
I've said many times this winter that even the worst team is going to have around 30-50 saves throughout a season. Even a team that loses 100 games is going to have 62 wins so giving a team 30-50 saves is not out of the realm of possibilities. The real question is will all those saves go to one person, which is ideal in fantasy, or to multiple people, which obviously is not. This is the question you should be asking if you're in need of a closer and trying to decide who will close games for team's like the Miami Marlins, Atlanta Braves, Philadelphia Phillies and Milwaukee Brewers to name a few. Spring competitions are all over with Will Smith battling Corey Knebel and Jeremy Jeffress in Milwaukee, David Hernandez battling Ernesto Frieri and Edward Mujica in Philadelphia, AJ Ramos battling Carter Capps in Miami and Jason Grilli battling former Yankees prospect Arodys Vizcaino in Atlanta. If I had to pick a winner in each of these competitions I would have to go with Will Smith in Milwaukee, David Hernandez in Philadelphia, AJ Ramos in Miami and Jason Grilli in Atlanta but all will have extremely short leashes on from Opening Day on. If you're set elsewhere and you absolutely need a closer it may be worth grabbing two options from one team just to make sure you have the saves situation handled, one can easily be traded or passed through waivers to the free agent market later on.
So there you have it, the spring competitions that could impact your fantasy baseball draft and league this season. There are more, the Yankees bullpen, the Washington Nationals shortstop situation, the Tigers center field situation, whether Hanley Ramirez will stick at first base in Boston, various starting pitching competitions around the league and almost the entire Atlanta Braves team is up for grabs. Spring training is close and I can't say how excited I am to be talking about it and how excited I am to be talking about fantasy baseball. That means real baseball is near and that makes me smile. Hope this information helps and if it does pass it on!