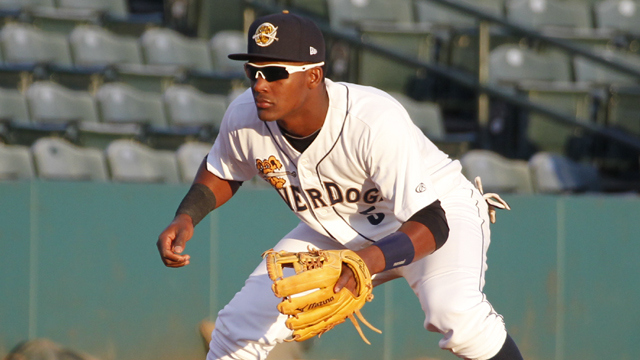 Miguel Andujar is finally starting to make a name for himself inside the Yankees farm system at age 20. Andujar, a third baseman and designated hitter according to Baseball Reference, finally reached Tampa with the Tampa Yankees last season and di not look overwhelmed by the jump up from Charleston. Andujar looks like he may be the Yankees third baseman of the future, especially if he can cut down on his strikeout numbers, and for those reasons and more are why I have Andujar as my 21st best prospect in the Yankees impressive farm system this season.
Andujar is just now growing into his 6'0" and 175 lb. frame and could add more power to his game the closer he gets to the major leagues. Andujar has shown double digit home run power as a teenager which could grow into 20+ home run power as he eases into his 20's and beyond. His defense is suspect at this point as he makes a ton of errors every season but his feet seem solid and quick and his arm is strong. He will get away with a lot with that throwing arm and may become a guy that gets everything he can get to rather than trying to do too much, and that's okay.
Andujar has enough speed to hit double digit doubles every season and steal some bases. He's not a leadoff hitter though as he projects to be a middle of the order type hitter at his ceiling, something every team is looking for. Andujar has an awful long way to go but if he gets there and reaches his potential the rest of the league needs to watch out. Andujar could be something special but he's still got at least two seasons to go.
21. Miguel Andujar
22. Jonathan Holder
23. Tyler Wade
24. Nick Rumbelow
25.Jordan Montgomery
26.Trey Amburgey
27. Ben Gamel
28. Austin DeCarr
29. Thairo Estrada
30. James Pazos