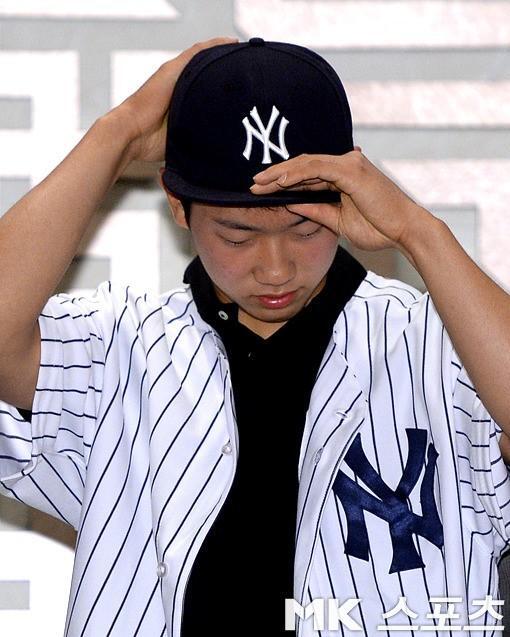 The New York Yankees have not sent a team to travel to Korea in quite some time but they did just that when they decided to sign their top athlete and shortstop Hoy-Jun Park. Park signed with the Yankees as an 18-year old amateur player in 2014 and has made an immediate impact for the club at a position the team is suddenly stacked in. Park became the first ever Korean-born international free agent to sign with the Yankees but it's not the sideshow that attracts me to Park it is his pure talent that has him ranked so highly on my list.
Park is not only an average and contact type hitter but he has been known to add a little bit of pop to the ball every once in a while. He is still growing into his body and he may never be a double digit home run guy but he has gap power, speed and a batter's eye to boot making him a tough at bat for any minor league pitcher. If you don't believe me though here is MLB.com's scouting report on Park when the Yankees signed him in 2014. It's only gotten better and it's only gone up from here as he has impressed with the Pulaski Yankees and every minor league affiliate stop he's made since signing.


Scouting Grades: Hit: 60 | Power: 45 | Run: 60 | Arm: 55 | Field: 60
Park and his teammates from Yatap High School in South Korea spent more than a month in the United States playing against top high school teams from California earlier this year. There's a real possibility the young infielder will get a chance to see a lot more of the country in the near future.
A legitimate shortstop prospect, Park has the tools to stay at the position as he develops. What's more, some scouts think he has the potential to be above average in every facet of the game, except for power. That said, there's the belief that he could still hit at least 10 home runs when he gains strength. He can also spray the ball to all fields.
Scouts view him as a good defender with solid fundamentals and compare him to Tampa Bay infield prospect Hak-Ju Lee. Park has been scouted heavily by the Yankees.
17. Hoy-Jun Park
18. Luis Torrens
19. Cale Coshow
20. Chance Adams
21. Miguel Andujar
22. Jonathan Holder
23. Tyler Wade
24. Nick Rumbelow
25.Jordan Montgomery
26.Trey Amburgey
27. Ben Gamel
28. Austin DeCarr
29. Thairo Estrada
30. James Pazos