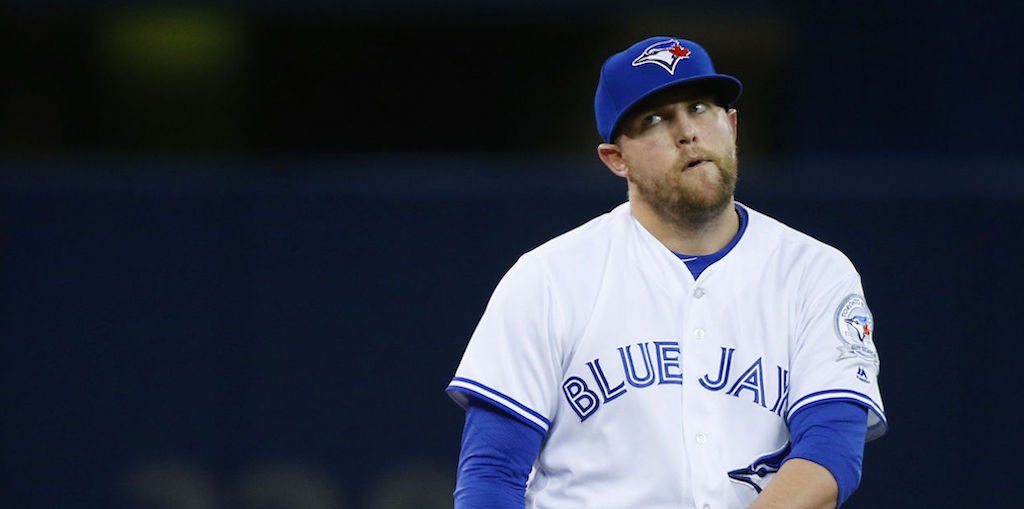 The Toronto Blue Jays came into the 2016 MLB season as the defending American League East champions and a team that was fresh off a trip to the American League Championship Series. While David Price had left for Boston via free agency and Mark Buehrle had retired, unofficially, the team felt good about their offseason additions and a full season of Marcus Stroman in the rotation but that plan hasn't gone as planned thus far. Over the weekend while the Yankees were whooping up on the Oakland Athletics the Blue Jays, who come to town tomorrow night, slipped into last place in the American League East Division. Also over the weekend the team announced that they are making relief pitcher Drew Storen available leaving many, or maybe just me, to wonder if the team isn't as confident in their chances this season as they originally thought.
The trade of a relief pitcher is relatively minor in most cases but I think it's especially important for Toronto. The reason they got Storen from the Washington Nationals this winter was because their bullpen was suspect and with the injury of Brett Cecil a trade of Storen would leave their bullpen suspect once again. Now this isn't as simple as having a warm body in the bullpen, the Blue Jays have their reasons for wanting to trade Storen, but I think this may be just the beginning of trades for Toronto if the losing continues to occur.
Storen hasn't been the Storen that was bumped out of the closer role in Washington by Jonathan Papelbon since coming over to Toronto. He's allowing a hit and a half roughly per inning and over a run per inning pitched although the sample size of 15 innings is hardly something concrete in my opinion. Storen is still healthy and still striking out almost 10 batters per nine innings while limiting walks but the production just hasn't been there in Toronto like it was in Washington. Maybe his dip in velocity is to blame?
Even with Storen struggling I think it's far too early in the season to make him available if the team wants to compete. If the team plans on competing in 2016 they wouldn't be making him available in May after just 15 innings. That's just my opinion and maybe I'm wrong but the last time I saw an AL East fire sale coming I got killed on Twitter for announcing it early. About 15 traded later with the Tampa Bay Rays and the fire sale was over. I was criticized for being right then, will I be this time as well?
Stay tuned.