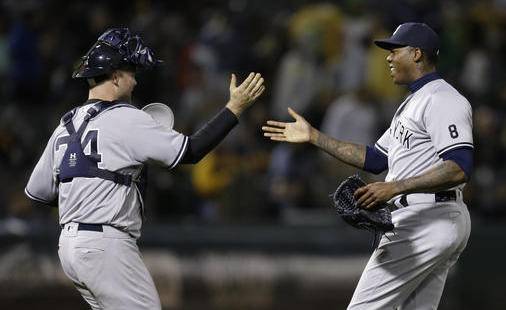 The New York Yankees week did not start off the way anyone would have liked. After two straight losses in the desert to the Arizona Diamondbacks the Yankees turned it on winning the finale of the series and all four in Oakland to close out the week on a five-game winning streak. Was it enough to be this week's biggest rise and just how much will the Yankees improve in this week's rankings after the dominance against the Athletics? Keep reading.
I won't keep you waiting long the New York Yankees finished the week at the #21 position which is one spot higher than they were this time last week. Good job Yankees family! The rest of the American League East remained competitive this week as well with the Baltimore Orioles finishing with the #4 position while the Boston Red Sox were in the #3 position when the week came to a close. The Tampa Bay Rays currently occupy third place in the AL East Division and occupy the #19 position in these rankings while the Toronto Blue Jays finished the week ranked #17 overall by the USA Today.
The biggest rise of the week, or the team that basically did the best and moved up the most to simplify the term, went to the San Francisco Giants who rose three spots from the #12 position to the #9 position. Meanwhile the biggest fall of the week unfortunately went to the Los Angeles Dodgers who fell five spots from the #9 position all the way down to the #14 position. The top five teams in the league according to the rankings are the Chicago Cubs, the Washington Nationals, the Boston Red Sox, the Baltimore Orioles and the Seattle Mariners. The bottom five teams no one wants to be unfortunately are the #26 Oakland Athletics, the #27 Milwaukee Brewers, the #28 Cincinnati Reds, the #29 Atlanta Braves and you guessed it, the #30 Minnesota Twins.
We're basically a week away from June baseball. Things are heating up around the league and every game is beginning to mean more and more to these clubs listed here today. The Wild Card chases should go down to the wire again this season and the August 1st trade deadline should be fun. I can't wait and if you can't either then stay tuned to these rankings and posts here on the blog each and every week.