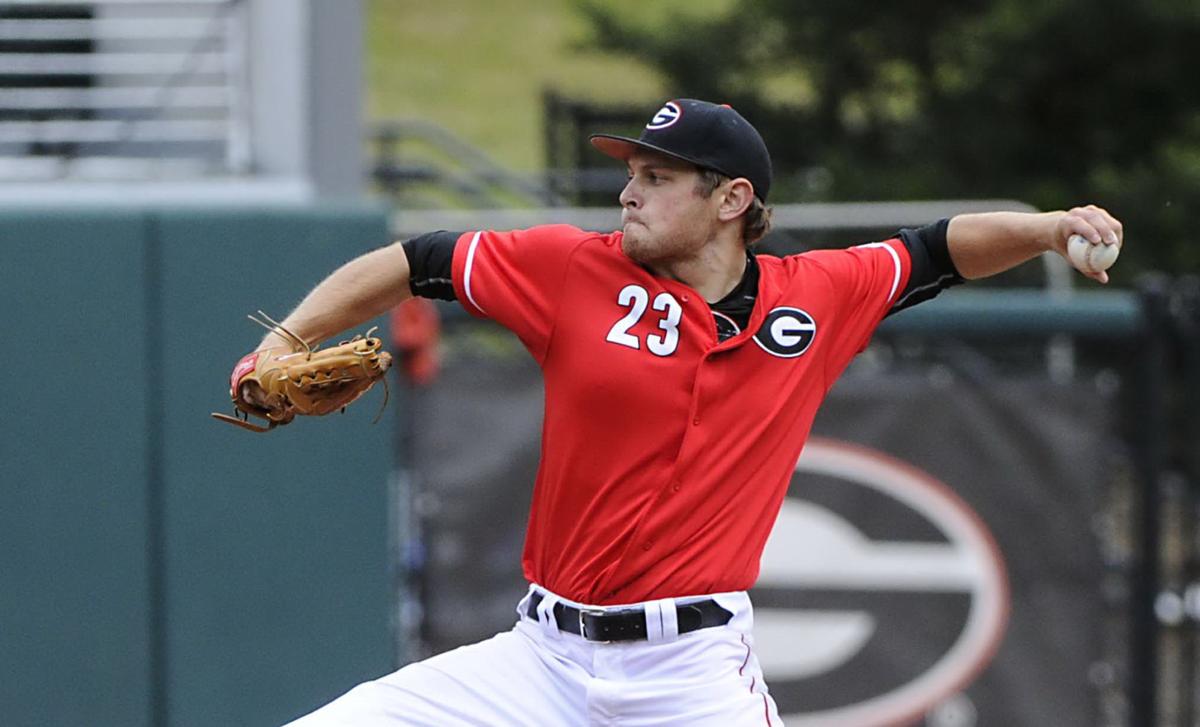 At the time of this writing the New York Yankees had signed picks #12 Taylor Widener, #14 Jordan Scott and #15 Tony Hernandez with #11 Connor Jones (LHP, Georgia) marked as a "probably will sign" and rather than give them all their each individual post, which to me would seem like I was milking you guys for views and clicks since there is so little in the way of information on a lot of these guys, I figured I would lump rounds 11-20 together. We'll split these posts into two posts and we'll kick it off with this special Meet a Prospect for Mr. Widener, Mr. Scott, Mr. Hernandez and we'll throw in Mr. Jones just in case he signs before this goes up. Enjoy.
Round 11 – 338th overall – Connor Jones (LHP) Georgia:
Jones stands at 6'1" and 195 lbs. but he can an intimidating and overwhelming presence on the mound from the left side. Jones had been a reliever until the 2016 season when the Georgia Bulldog coaches decided to move him to the rotation. While in the rotation Hones pitched to a 4.66 ERA in 75.1 innings while striking out 74 and walking 37.
Jones possesses a 95 MPH fastball but his command is suspect at best at this point in his career. His breaking stuff is considered to be average and need work which could force him back into the bullpen full time once he makes his professional debut. If history is any indicator of the past thought the Yankees will give him every opportunity to start until they have to make him a relief pitcher again.
Round 12 – 368th overall – Taylor Widener (RHP) South Carolina:
Taylor Widener was considered to be the seventh best player in the state of South Carolina at the time of his drafting after being a starter and a weekend closer for the Gamecocks. Widener, all 6' and 200 lbs. of him, pitched to a 4.34 ERA in 47.2 innings pitched (eight starts) possesses a repeatable delivery and an easy 93 MPH fastball. Widener has been clocked as high as 97 MPH but that should not be expected going forward as a starter, as a reliever we could see 95+ MPH though. Widener's second pitch is a slider which seems to be a favorite of the Yankees if you look at the arms that are already in their system.
Widener strikes out enough guys to make it in college and possibly the minor leagues as a starter but his big league future seems to be in the bullpen. If Widener can open things up and throw 97 MPH+ in the bullpen for the Yankees one or two innings at a time he may be better utilized that way than as a starter with a mediocre second pitch and no third pitch to complement it.
Round 14 – 428th overall – Jordan Scott (CF) IMG Academy:
Jordan Scott comes in at 6'0" and 215 lbs. as a switch hitter that can stick around in center field. Sounds great on paper but his commitment to West Virginia University may have scared some teams away from him. Scott was once revered as a shortstop prospect before his move to center field with IMG Academy and may ultimately end up there during his professional career.
Scott was a 2015 Perfect Game Honorable Mention All-American and was also a member of the All Region 2nd Team that year as well for the Southeast. Scott seems pretty raw and may be one of those talents that take around six years before making a true impact in the minor leagues and in the big leagues.
Round 15 – 458th overall – Tony Hernandez (LHP) Monroe Community College:
Hernandez comes to the Yankees with the credentials of being the ace of the staff at Monroe Community College after posting an impressive 10-1 record with a 1.97 ERA in 73 innings this season. Hernandez struck out 77 batters in 2016 while only walking 22 batters leading the Baseball Player Report to name Hernandez the top JUCO player from the state of New York in this year's draft.
Pitching in the minor leagues and in Major League Baseball may be a bit different from pitching at a Community College but one has to start somewhere and with stats like that you always take a chance on a young and promising arm like Hernandez has. This is a good pick by the Yankees in my opinion and has all the potential of being a great pick when it all unfolds in a few years.
This has been Meet a Prospect, a special edition from the 2016 MLB Draft's Round 11-15. Check back later for Rounds 16-20 for another special edition of Meet a Prospect.