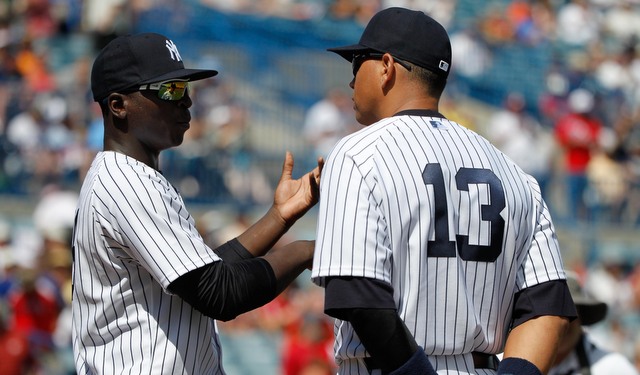 When the New York Yankees and Alex Rodriguez announced that his final game would be played in the Bronx against the Tampa Bay Rays many wondered what the future would hold for the Yankees former 3B and DH. The team announced they would immediately sign Alex to a front office contract to serve as an advisor for the club but many wondered if that was just an empty promise and an empty job title just to get him off the roster. Now we are learning that Hal Steinbrenner has big plans for the man that will retire with 696 home runs, to work with the Yankees two top shortstop prospects Gleyber Torres and Jorge Mateo specifically.
Many of you should remember that when Alex flew through the Seattle Mariners system he was a shortstop prospect, a position he not only played but played exceptionally well until a trade to the New York Yankees pushed him to third base. Many of you should also remember that Alex is an absolute student of the game and has drawn rave reviews from anyone and everyone you talk to about his knowledge and understanding of this game. Who better than Alex, or maybe Derek Jeter, to teach and work with the Yankees two top studs at the position down in the minor leagues?
Alex is a Miami, Florida resident and currently both players are occupying the middle infield for the Yankees High-A affiliate, the Tampa Yankees, which makes things easier on the now retired slugger.
One last thing you should remember before we go. Remember when Didi Gregorius was acquired and was struggling at the shortstop position for the Yankees? Remember the "Daily Dammit Didi" tweets on Twitter? It was Alex Rodriguez that worked with Gregorius in the infield and boom, six months later Gregorius was being robbed of a Gold Glove at the shortstop position. It's not a coincidence. If he can do that for Didi imagine what he can do to help mold and shape young guys like Torres and Mateo. The sky is the absolute limit right now for both and I couldn't be more excited about it.