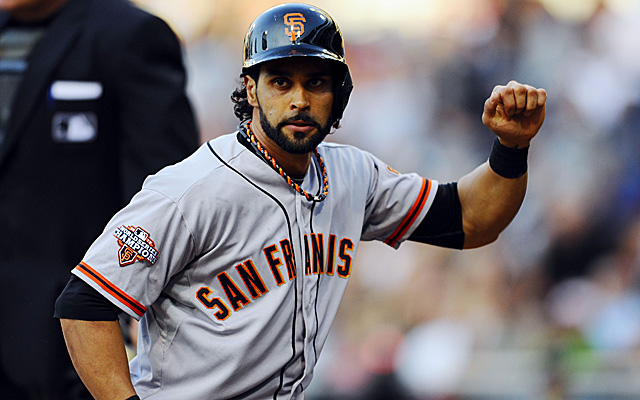 Here's a quick hit to end your Saturday and something to think about. This is not something that I think the New York Yankees are necessarily thinking about but, all bias side of course, I think it's something that should at least be considered by the organization. Why? Because Aaron Hicks sucks. Who do you replace him with? A veteran fourth outfielder who could mentor Aaron Judge alongside Matt Holiday. When do you replace him? Preferably now but as soon as possible works too. Just saying.
Before you scoff at the name Angel Pagan let's take a closer look at what he did last season in an extremely pitcher-friendly ballpark in 2016. Pagan put up a .277/.331/.418 triple slash with 12 home runs and 15 stolen bases while playing a very serviceable left field. Pagan was also a very serviceable center fielder as recently as 2015 which leads you to believe he could be again in a much smaller ballpark in the Bronx if needed once or twice a week, tops.
Pagan is 35-years old so he spits in the face of this recent youth movement by the Yankees but anyone who has ever watched a rebuild knows that any and all rebuilds rely heavily on young prospects and players with a veteran player sprinkled in here or there for good measure. Pagan could be that veteran that rides the bench or plays more than he should much like Hicks did last season. Pagan played in 129 games last season so durability is not a concern and neither is production while production has been a constant concern for Hicks.
Pagan would be an incredible insurance policy for Jacoby Ellsbury as well as the current Yankees center fielder is always one pitch away from yet another season-ending injury so keep this guy in your back pocket and/or give him a minor league deal with an invite to spring training camp. You know, before someone else does.