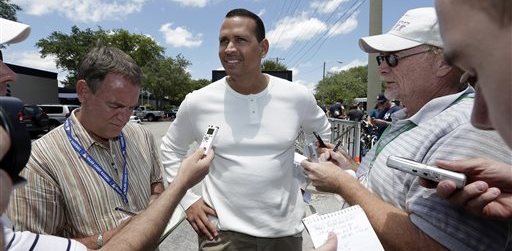 The New York Yankees had basically half their team down in Tampa at their baseball complex rehabbing from various injuries.
Alex Rodriguez hit off a tee, ran, and played catch for the first time since his hip surgery only four months ago. This is the first set of baseball activities that A Rod has done since the surgery. Alex is on a 30 day rehab schedule set up by team doctors and officials and this way day 1 of 30 as the Yankees plan to take things one month at a time. Alex is still on schedule to return sometime around or after the All Star break as long as everything goes well.
Curtis Granderson is rehabbing his broken forearm down in Tampa. Kevin Youkilis is rehabbing his lumbar sprain in his back down in Tampa as well. Mark Teixeira is rehabbing his injured wrist from the World Baseball Classic down in the Yankees minor league complex. Francisco Cervelli is nursing his broken right hand down in Tampa. Michael Pineda is also rehabbing his right throwing shoulder down in Tampa as well.