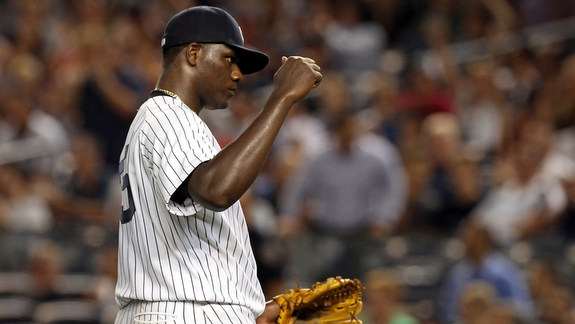 The New York Yankees and the Kansas City Royals will finally makeup their rained out game from 6/9 and will play one game tonight in Kansas City before New York heads over to Detroit for a three game series. The Yankees will send Michael Pineda to the mound to face off with the Royals ace James Shields. The game will be played at 7:10 pm ET and can be seen on MY9, ESPN, MLB TV, and can be heard on the radio with WFAN.
You have a week to buy Yankees tickets right here off the blog before the home team returns home to Yankee Stadium. We also sell Yankees road tickets if you're interested to CLICK HERE and check those out.
Also follow us on Twitter by following @GreedyStripes and like our page on Facebook by searching for The Greedy Pinstripes.
It's an open thread and we should see a great pitchers duel so be sure to drop us a line in the comments section of the site. Enjoy the game Yankees family and enjoy the rest of your evening. Go Yankees!