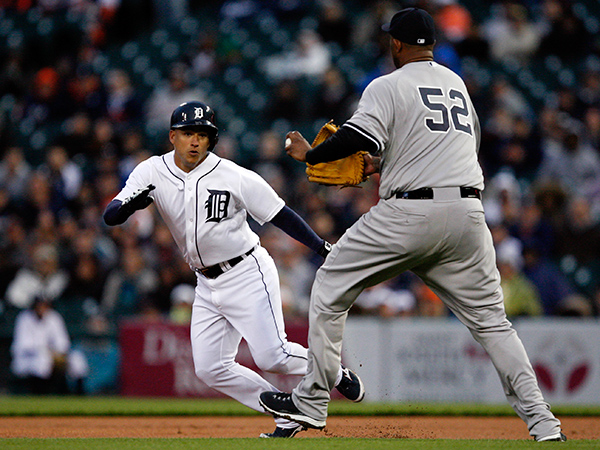 The New York Mets and the New York Yankees face off once again today as a part of the Subway Series in the Bronx. Last night we were all entertained by the Michael Pineda and Jacob deGrom pitching matchup and today we have another one to look forward to when the Yankees send CC Sabathia to the mound to face off against the Mets ace Matt Harvey. Keep in mind that Harvey suffered an extremely mild ankle sprain in his last start and has some fluid building up in the ankle and rather than skipping a start in April to make sure he's okay for the long haul he will make the start today in the Bronx. Maybe it's the Joe Girardi in me talking but that sounds like you're asking for trouble but as long as that trouble works out in the Yankees favor then I'm all for it. The game will be played at 4:05 pm ET and can be seen on SNY, WPIX Channel 11, Fox Sports 1 and MLB TV.
Sabathia is coming off easily his best start of the 2015 season after he pitched a complete game against the Detroit Tigers last time out. Sabathia allowed just two runs over eight innings however his Yankees teammates could only muster one run off Alfredo Simon in the loss for New York. Sabathia has pitched much better than his 0-3 record shows and he hopes to improve on his 3-1 record and 2.14 career ERA against the Mets.
Harvey was sick in his last start against the Miami Marlins plus he hurt his ankle and was still able to improve his 2015 season record to 3-0. Harvey has never pitched in the Bronx or Yankee Stadium and will be making his debut later on this afternoon.
Sabathia has looked better and better with each start this season and is finally giving some length to Girardi and the Yankees bullpen. Sabathia may not throw a complete game and give up just two runs today like he did against the mighty Detroit Tigers but if he can keep the team close I feel good about the Yankees chances against that young Mets bullpen. Only one way to find out and that's to watch the game. Go Yankees!
#BeatTheMets