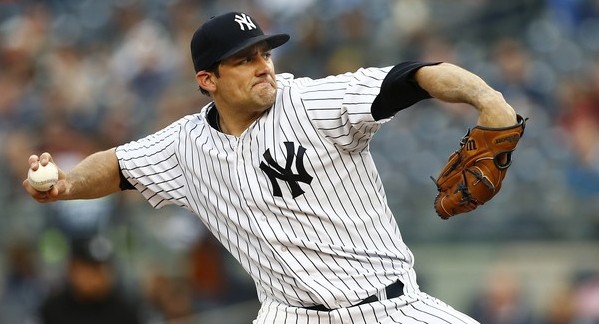 In the finale of the quick two game series between the New York Yankees and the Washington Nationals the fans inside Yankee Stadium will be hopefully entertained by another pitchers duel. Last night fans watched as Masahiro Tanaka and Max Scherzer went head-to-head and will watch this afternoon as Nathan Eovaldi takes the mound for the Yankees and the Nationals had a TBA at the time of this writing. The game will be played at 1:05 pm ET and can be seen on the YES Network, MLB Network and MLB TV.
Eovaldi has made eight starts in his career against the Washington Nationals, one with the New York Yankees and seven with the Miami Marlins, and has struggled in almost every single one of them. Eovaldi faced them on May 19th and gave up five runs in 4.1 innings including home runs to Bryce Harper and Ian Desmond which pushed his career ERA against Washington up to 5.32.
TBA
New York heads into another off day tomorrow before heading to Oriole Park and Camden Yards to take on the Baltimore Orioles in a bitter AL East rivalry. New York is at the top of this American League East division and are playing like they deserve to be there and deserve to stay there for the long term. Here's to hoping the Yankees can keep their winning ways going this afternoon and into the weekend, cheers and Go Yankees!