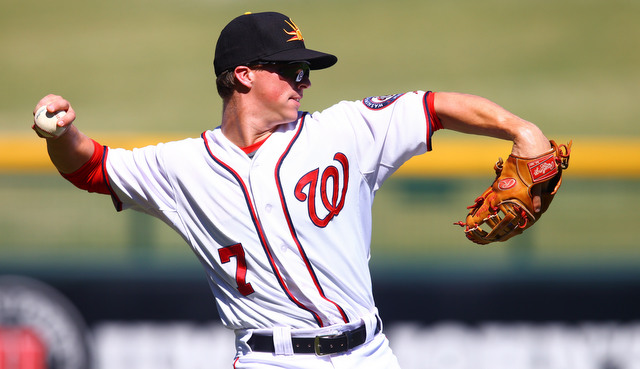 Tony Renda was traded from the Washington Nationals to the New York Yankees this week in exchange for recently designated RHP David Carpenter. It's not very often that a team can snag a former second round pick and a decent second baseman for a player that was recently designated for assignment but the Yankees did just that when they acquired Renda. The team seems to be stockpiling minor league middle infield talent in the draft, in free agency and especially via trade and Renda is just the latest depth addition to the team. With a little bit of addition by subtraction the Yankees have a solid middle infielder that will now begin his Yankees career in Double-A with the Trenton Thunder, let's meet him.
Anthony Renda was born on January 24, 1991 in Hillsborough, California to mother Laree and father Frank Renda. Renda started out as a bagger at the grocery store "Safeway Inc." before working his way all the way to an executive position. At age 19 he lost his father Frank, a construction worker at the time, and it totally changed his life. Renda went on to college at the University of California, Berkeley and played college baseball for the California Golden Bears but not before the Los Angeles Dodgers drafted him in the 42nd round of 2009 MLB Draft. Renda did not sign out of high school and followed through with his commitment to Cal leading the Washington Nationals to select him in the 2nd round of the 2012 Draft. Renda received a $500,000 signing bonus and immediately made his professional debut with the Class-A Short Seasons Auburn Doubledays.
In Renda's first professional season he played in 71 games before being called up to Class-A Ball with the Hagerstown Suns. During that 2013 season Renda posted a .294 batting average with 99 runs scores, 51 RBI and 30 stolen bases in 135 games while winning the Bob Boone Award. The Bob Boone Award is handed out to the player with the most "professionalism, leadership, loyalty, passions, selflessness, durability, makeup, intangible and tremendous work ethic" in any minor league season. With the award and the second most doubles in all of Minor League Baseball in 2013 in hand he got promoted to the High-A Potomac Nationals for the 2014 season and an invitation to join to the Mesa Solar Sox in the Arizona Fall League where he was named to the AFL All-Star Game.
Renda began the 2015 season in Double-A with the Harrisburg Senators and hit .267 through 54 games before the trade that sent him to the Yankees. Now he's currently in the Yankees Double-A affiliate with the Trenton Thunder and will look to continue his dream of one day reaching the major leagues. Hopefully he realizes that dream while wearing pinstripes, welcome to the family Tony.