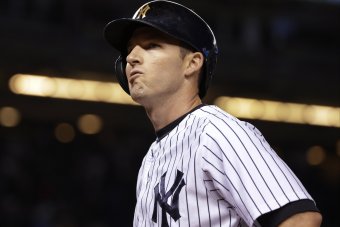 I meant to get to this post yesterday since it was the first of the month but the schedule was too full to fit in the post. I guess having too much content and not enough time is never a bad thing but I do apologize anyway. Today we take a look at the Yankees record through the month of May the last three seasons. We pick the last three seasons for obvious reasons as the Yankees missed the playoffs in their 2013 and 2014 campaigns and look to avoid that same fate for a third year in a row.
The Yankees record through May 2013: 31-23 (2nd place)
The Yankees record through May 2014: 29-25 (2nd place)
The Yankees record through May 2015: 26-25 (1st place)
2013 Run Differential: +18
2014 Run Differential: -10
2015 Run Differential: +10
As you can see this team actually has the worst record of any of the three teams but thankfully for New York the team is also playing in the worst division of any of the three years. The Baltimore Orioles are not bashing people's skulls in like they were in 2014 and the Boston Red Sox are no longer the juggernaut that they were in 2013 leaving at least some hope for New York. The bottom line is if the team wants to make the postseason it's going to likely be as a division winner and not a Wild Card so they better at least win more than the Tampa Bay Rays or heads may begin to roll in the Bronx.