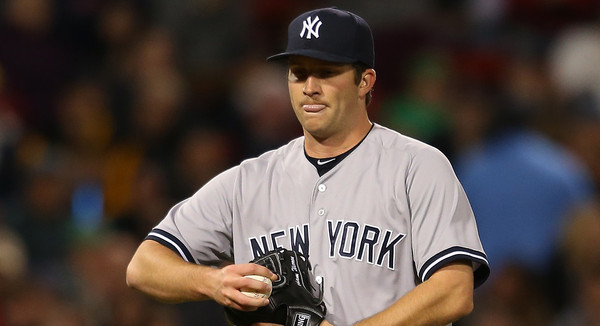 His move to the bullpen is likely inevitable, but Yankees right-hander Adam Warren would prefer to stay where he is.
Warren said as much after Sunday's win over the Orioles, telling
NJ.com's Brendan Kuty
he wants to remain in the rotation.
"Yeah, I do," Warren said. "Like I've said, I've always enjoyed it better as a starter."
Warren -- 4-4 with a 3.78 ERA this season -- is expected to join the pen following the return of Ivan Nova, who is nearing the end of his rehab assignment.
Warren thrived as a reliever last year, compiling a 2.97 ERA in 69 appearances. He often worked either seventh or eighth innings, and with Andrew Milller sidelined with a forearm strain, the group could certainly use his help.
Still, Warren may not have to go anywhere if the Yankees decide to temporarily wield six starters -- something of which Joe Girardi recently stressed the importance.
"We know that we're going to need to insert a starter somewhere," Girardi said, via
The LoHud Yankees Blog
. "We know that."
The idea of a six-man unit will probably come to fruition sometime during the Yanks' current 20-game stretch, when the team has no off-days. Girardi has not yet revealed who the added arm will be, though it's a safe bet Warren's a strong candidate.
And from the sound of things, that's good news for him.
"I just think it's, especially (with) me, when I have four pitches, I can use all those pitches when you see guys two or three times," Warren said, explaining why he enjoys being a starter. "You get to explore the art of pitching whereas in relief it's, 'Here's my best stuff.'"