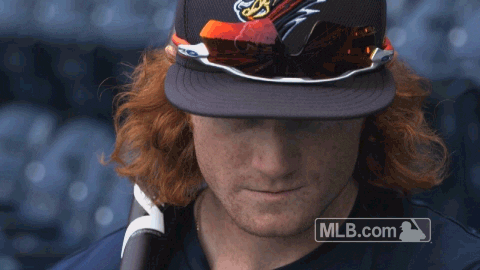 September call ups are just around the corner in Major League Baseball which means prospects, and for some teams reinforcements, are on the way. The New York Yankees are one of those teams that can truly say that reinforcements are on the way as there is a bunch of useful and talented players down on the farm as we stand here a mere week and a half away from September 1st. Let's take a look at some of the potential September call ups and see who will or can be most useful for the team as they push towards the postseason.
Clint Frazier will be a day one call up for the Yankees if his left oblique allows him to be healthy and on the field. Frazier was doing well for the big league club before his injury and will definitely be in the mix at all three outfield positions and at DH for the remainder of the 2017 season.
The Yankees love carrying three catchers or more in September and Kyle Higashioka should be up on September 1 if his back and shoulder allows. Higashioka has battled back injuries for much of this season and went on the disabled list this past weekend with a shoulder injury. If Higashioka is healthy he will be here, if not the Yankees may run with just two catchers until he is healthy enough.
Miguel Andujar will likely be a day one call up as well after a short, but impressive, stint with the Yankees at third base earlier this season. Andujar won't come up for his defense at third base, especially with both Todd Frazier and Chase Headley healthy, but his bat could earn him a few at-bats off the bench down the stretch.
Now is the part of the story where we talk about the potential arms down on the Yankees farm and the part where Joe Girardi and his binder turned iPad begin to salivate when thinking about the pitching matchups. Domingo German could come up to take some of the pressure off Chad Green, Ben Heller could be a guy to come into a game and get a strikeout or three when necessary as he boasts a 13.3 K/9 ratio at Triple-A this season, and Jonathan Holder could make his return to the Yankees bullpen after making the team out of spring training camp.
Is there anyone the Yankees could make a 40 man roster spot for? Nick Rumbelow missed the entire 2016 season with Tommy John surgery and was optioned off the 40 man roster before getting healthy and dominating Triple-A hitting in 2017. Rumbelow will be eligible for the Rule 5 Draft and/or minor league free agency at the end of the season so if the team is keen on keeping him they could add him sooner rather than later.