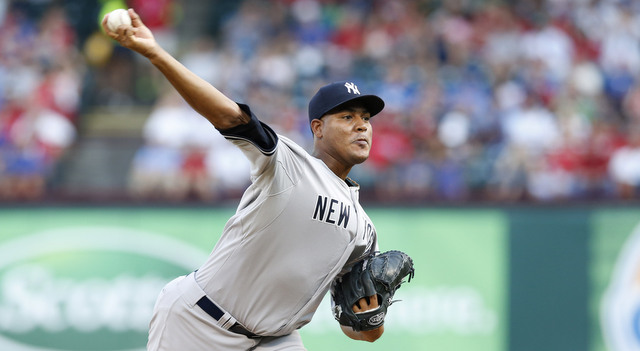 Didi Gregorius had a career-high four RBI and the Yankees cruised past the Rangers, 6-2, in the series opener tonight at Globe Life Park.
Yes InDidi: The Yankees' shortstop tied the game with a two-run shot in the third before adding an insurance two-run single in the seventh -- part of a 3-for-4 evening for him in which he also made a nice defensive play. With Shin-Soo Choo at the dish and one out in the fifth, Gregorius stopped a liner up the middle with a smooth slide and spin -- likely saving a run after the next two men reached base.
Somewhat Super Nova: Ivan Nova's performance tonight wasn't exactly amazing, but nonetheless, it deserved a passing grade. The right-hander limited the Rangers to just two earned runs over five solid innings, yielding a tolerable five hits while walking two and striking out three.
He's Unstoppable: Alex Rodriguez continued his incredible road trip with a solo blast in the sixth, a wall-scraper to right off Matt Harrison for his 24th big fly of the year. Rodriguez, who turned 40 today, is now tied with Mark Teixeira for the team lead in homers -- fifth in the league overrall.
Chasen Recognition: He might not be well known outside of the Yankees' fanbase, but left-hander Chasen Shreve is truly a dominant reliever. The youngster threw two more scoreless frames and fanned four in this one, allowing just one baserunner when the aforementioned Choo walked.
Don't Judge the Mustache: Brendan Ryan again contributed offensively with a triple in the third, a fly ball off the left-field wall Josh Hamilton had a tough time fielding. The knock set up Chris Young for a go-ahead sac fly two batters later, giving the Yankees an advantage they'd never lose.
Next Up: The Yankees and Rangers resume this set tomorrow with a nationally-televised contest in Arlington -- beginning at 8:05 p.m. ET and airing live on Fox Sports 1. Chris Capuano (0-4, 5.64 ERA) will start for the Yanks hoping for his first victory, opposing recently-activated Rangers lefty Martin Perez (0-1, 4.91 ERA).