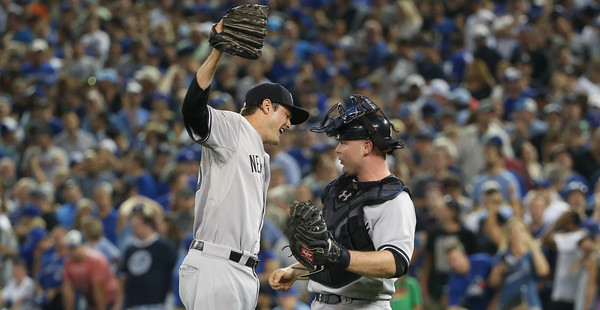 Carlos Beltran hit a go-ahead three-run shot in the eighth and the Yankees stole one from the Blue Jays, 4-3, on Friday night at Rogers Centre.
Belting off the Bench: A pinch-hitting Beltran clubbed arguably the Yankees' biggest home run of the year on a fastball from Aaron Sanchez, a 97 mph heater the youngster left over the plate. Sanchez had been ahead in the count 1-2 prior to the game-changing blast, but poorly located his next offering as Beltran took advantage.
The Nerves are Rampant: Seemingly continuing his unimpressive week, Andrew Miller again had trouble finishing the ninth. The Yankees' closer allowed two runners to reach scoring position with just one out, barely escaping disaster after lengthy strikeouts of Ben Revere and Troy Tulowitzki.
More Than Acceptable: His seven innings of three-run ball might not have been masterful, but nonetheless, Ivan Nova kept the Yankees in Friday's contest. The emerging right-hander surrendered all three of the Blue Jays' runs in a rough bottom of the third, but rebounded from there for his fourth win in five starts.
Get Outta Here!: To say David Price silenced the Yankees' bats for the first 7 1/3 innings Friday would be an understatement. But following eighth-inning singles by Mark Teixeira and Brian McCann as well as a run-scoring ground-rule double by Chase Headley, the Jays' ace was forced to exit with men on second and third, a mini-victory for New York which ultimately cost Price the W.
Going, Going, aaaand Caught: Facing Dellin Betances with two out and the bases empty in the eighth, Justin Smoak excited the home crowd with a deep drive to center -- and for a moment, it really did seem like the ball would clear the fence. Fortunetaly for the Yankees, though, it instead fizzled out on the warning track -- preserving the visitors' lead and Betances' scoreless innings streak.
Next Up: The Yankees and Blue Jays play again Saturday at 1:07 p.m. ET, a matchup you can see live on YES and MLB Network. Masahiro Tanaka (8-5, 3.79 ERA) will get the ball for the Yanks versus Toronto's Marco Estrada (10-6, 3.21 ERA), the same head-to-head which was showcased last Sunday.