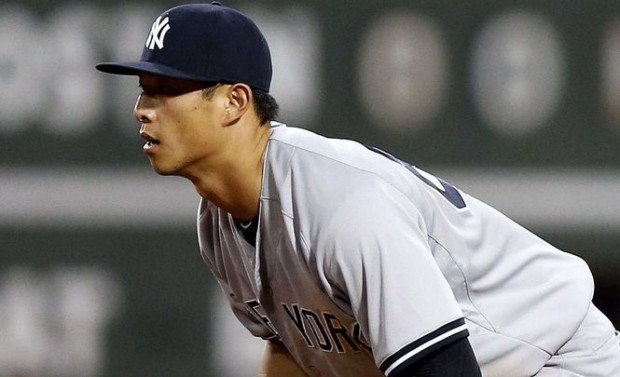 As we continue my predictions for the upcoming Yankees season and roster I've noticed more and more that this team was pretty much set before the offseason even began. While New York added Aroldis Chapman and Starlin Castro into the mix I'm left here thinking if it was truly just making a move for the sake of making a move. Sure Aroldis Chapman is great but him for 30 less games this season is worth how much more to THIS team than Adam Warren who could start or relieve? And sure Starlin Castro could be great but so could Robert Refsnyder, the sky is relatively the limit on both. This brings me to the bench and my predictions for who makes the roster because the sky is the limit there too.
C: Gary Sanchez
OF: Aaron Hicks
UTIL: Dustin Ackley
INF: Robert Refsnyder
The slot that Refsnyder has for the purposes of this post will be the revolving door that Yankees GM Brian Cashman will use to its full advantage. Last season New York mixed and matched fresh arms and relief pitchers out of their bullpen all season long almost daily and the plan seems to do the same on the bench. Need a first baseman for the weekend? We'll probably see Tyler Austin or Chris Parmelee in the slot and not Refsnyder. Need an outfielder? Plug Chris Denorfia or a laundry list of players as potential possibilities assuming an injury and assuming Denorfia does not opt out of his minor league deal. Ackley is almost set in stone barring and injury and so is Hicks while Refsnyder's right-handed bat will likely be utilized on Opening Day in some capacity against Dallas Keuchel.
The only wild card here, a wild card with a lot of moving parts, is Gary Sanchez. Carlos Corporan could win the job, Austin Romine could be designated for assignment leaving a 40 man roster spot open for Corpy and Sanchez could add to his career Triple-A games total that currently stands at 35 (one more than Greg Bird had when he was called up to the majors last season, FYI). Romine could also win the job sending Corpy packing and Sanchez back to Scranton while Bird could be added to the 60-day DL clearing up a roster spot. The final option is having Sanchez win the job, mentor on the bench much like Jorge Posada did and get into three or so games a week as a DH and catcher giving Alex Rodriguez and Brian McCann extra days off throughout the season.
Once again I know no more than you so stay tuned as we see it all unfold this spring. Thanks for reading!