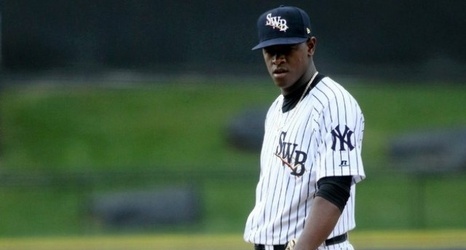 Desperate times call for desperate measures and times are looking pretty grim right now in the Bronx. Rebuilding times also call for rebuilding measures and either way we may be getting closer and closer to the "Luis Severino" chants coming back to the Bronx and the plea's to send Ivan Nova back to the bullpen may return as well to the Yankees Universe.
Ivan Nova has struggled lately for the Yankees and struggled is putting it mildly. Before entering his last start this week against the Colorado Rockies the Yankees soon-to-be free agent right-hander had allowed five runs in two of his last three starts and had posted a 6.30 ERA in his last five starts. In that start against Colorado he did nothing to make these stats look any better after getting charged with six earned runs in just four-plus innings of work. Meanwhile, and yes I heard Joe Girardi criticize Severino's starts on the YES Network despite what the box score said, Severino is pitching better and better and well overall in Triple-A. Is it time to make the move?
The Yankees are in a bit of a Catch-22 type situation and thankfully for the Yankees young right-hander both situations should lead to a call up if the Yankees have any inkling of what they are doing with the roster management of this team. If the Yankees plan on competing they know their pitching will have to be close to flawless because the offense has been mediocre at best this season. Having a guy like Nova have your team out of it before the game is even officially a game yet every fifth day is not going to allow you to make up too many games in the standings and will force a losing season and potentially a rebuild in the Bronx. If they want to compete they may almost have to call up Severino and send Nova to the bullpen at this point.
But if the Yankees decide not to do that and decide that they will not compete in 2016 they may choose to blow it up, make some trades and begin the rebuild process. When you rebuild you don't give starting pitchers pushing 30-years old who are about to hit free agency pitch for the rest of the season, you let the young guns have their fun and go through their growing pains while trading the rental, Nova in this case, for a prospect or two. Either way all signs points to Severino coming back sooner rather than later. But when? No one knows. Stay tuned.