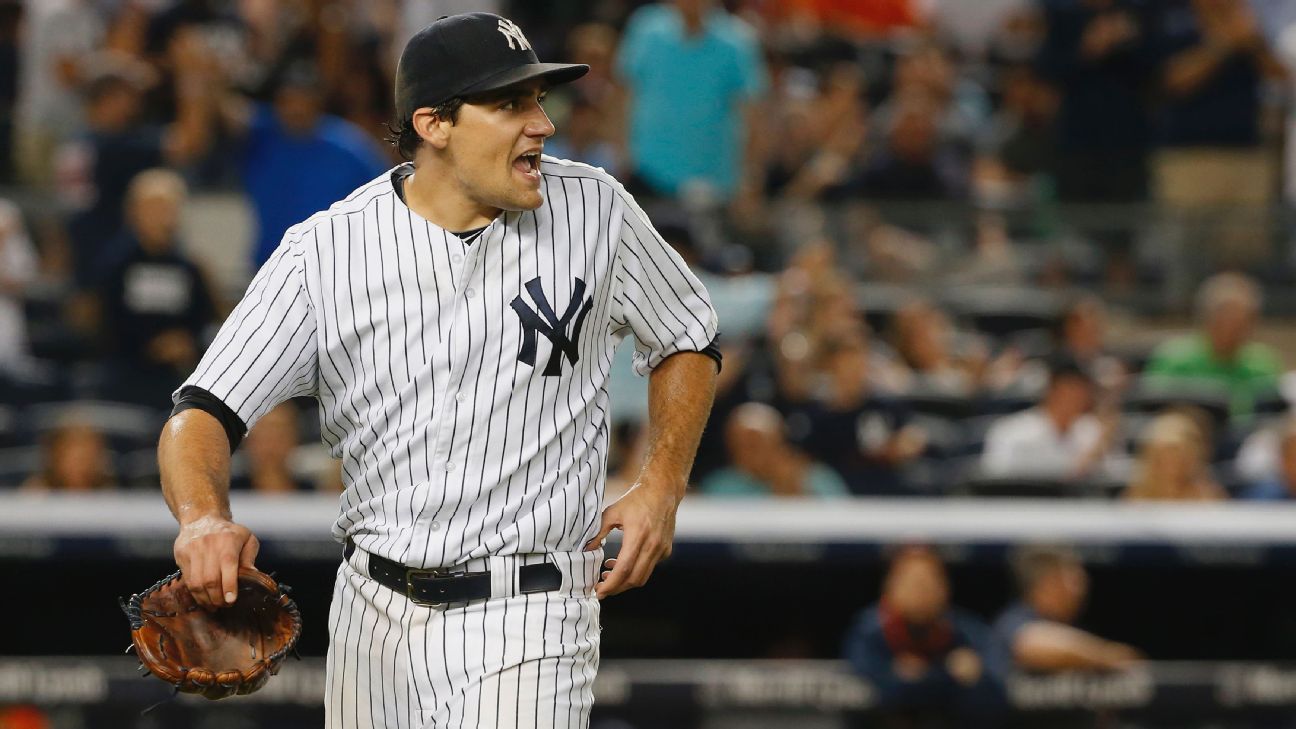 7:23 p.m., Mid 1st: Mike Trout puts the Angels on top early with an RBI single. It's 1-0 Los Angeles with the Yankees coming to bat.
7:32 p.m., End 1st: Yankees strike back in their first plate appearance. Brett Gardner and Alex Rodriguez log a pair of RBI hits and the Yankees have a 2-1 lead after the opening frame.
7:45 p.m., Mid 2nd: Another lead change. Former Yankee Gregorio Petit again burns his former team, crushing a hanging breaking ball to left for a two-run home run. It's 3-2 Angels.
8:02 p.m., Mid 3rd: Jefry Marte adds to the Angels' lead with a solo shot in the third. It's fair to say Nathan Eovaldi has not had his best stuff tonight.
8:13 p.m., End 3rd: Jacoby Ellsbury pulls the Yankees back to within one with a solo blast of its own. Now to see if Eovaldi can throw a shutdown inning in the fourth.
9:13 p.m., End 4th: That's two RBI tonight for Gardner. He brings home Chris Parmelee with a single to left and we're all tied at four heading into the fifth.
8:46 p.m., Mid 5th: For the second time tonight, the Yankees erase a deficit only to have the Angels re-take the lead in the next inning. This time the culprit is Albert Pujols, who doubles off the left-field wall to give the visitors a 5-4 edge in the fifth.
9:29 p.m., End 6th: Yankees break through big time with a four-spot in the sixth. After Parmelee of all people ties it with a solo shot off Jered Weaver, Carlos Beltran puts the Yanks in the driver's seat with an RBI double and Brian McCann adds on with a two-run single the other way. Looks like the Yankees could be on their way to a third straight win.
9:53 p.m., End 7th: Well, this one's pretty much over. Parmelee and Beltran both connect on two-run shots in the seventh as the Yankees extend their lead to 12-5.
10:28 p.m., Mid 9th: That's your ballgame. Trout leads off the ninth with a solo shot off Nick Goody, but that's where the Angels' comeback stalls. Final score: Yankees 12, Angels 6.