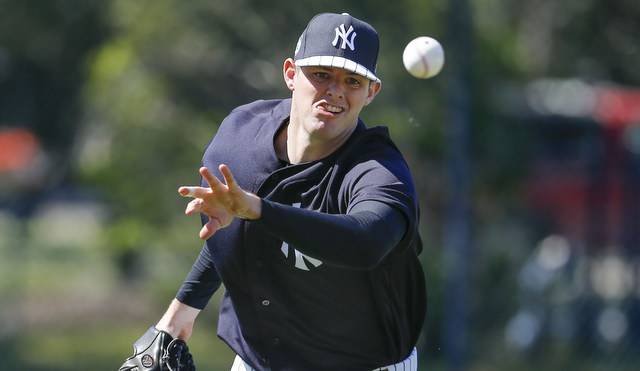 Two "so it seems" in one day. How did you all get so damn lucky? But seriously, something this awesome and potentially big is exciting and deserving of such an honor in my very bias, yet oh so humble, opinion because it seems like the rest of the world and especially the Yankees blogosphere is finally catching up to the idea of loving them some Jordan Montgomery. Montgomery was thought to be a long shot in the Yankees starting rotation battle this spring but as we stand here less than two weeks away from Opening Day the lefty is still in Yankees camp and still working on securing that 5th spot. Montgomery has impressed the Yankees this spring and now that he's popular to write about he is impressing a lot of sports writers as well, just don't tell that one guy from that one publication that I've been writing about Montgomery for a while now or he will find another way to block me on another format for having "his" idea first.
Montgomery has some stiff competition for the Yankees starting rotation battle this spring including right-handers Luis Severino, Bryan Mitchell, Chad Green, Luis Cessa and Adam Warren but none of them have stood out in camp this spring leaving Girardi to add the lefty Montgomery into the mix. Montgomery hasn't merely been added into the mix because of the struggles of the others though, Montgomery has pitched his way onto the Yankees radar this spring and has pitched well enough to where he cannot be ignored any longer. Montgomery has only pitched in relief this spring but the highlight of his Grapefruit League schedule was when he threw four perfect innings against the Detroit Tigers to finish the Yankees spring combined no-hitter. That opened some eyes apparently.
Montgomery had a strong 2016 campaign as well posting a 14-5 record with a 2.13 ERA in 25 starts between Double-A Trenton and Triple-A Scranton. While that stat line is impressive on its own when you look at his Triple-A stats, 5-1 record with a 0.97 ERA albeit in just six starts, you can see that Montgomery has little-to-nothing to prove in the minor leagues at this point in his development.
Will that lack of need for development lead him to the Yankees bullpen on Opening Day, remember the Yankees will only need four starters for the first two weeks or so of the season due to all the off days, and eventually into the Yankees starting rotation in mid-April? Will Montgomery be the Yankees fourth starter while the uber-talented Luis Severino heads into the bullpen? Or will Montgomery start the season down in Triple-A polishing up his skills? Your guess is as good as mine at this point but at the very least Montgomery is opening eyes everywhere now and that'd due to an immense amount of talent and hard work and that alone makes me happy and proud. Congrats to him no matter where he ends up on April 2nd.